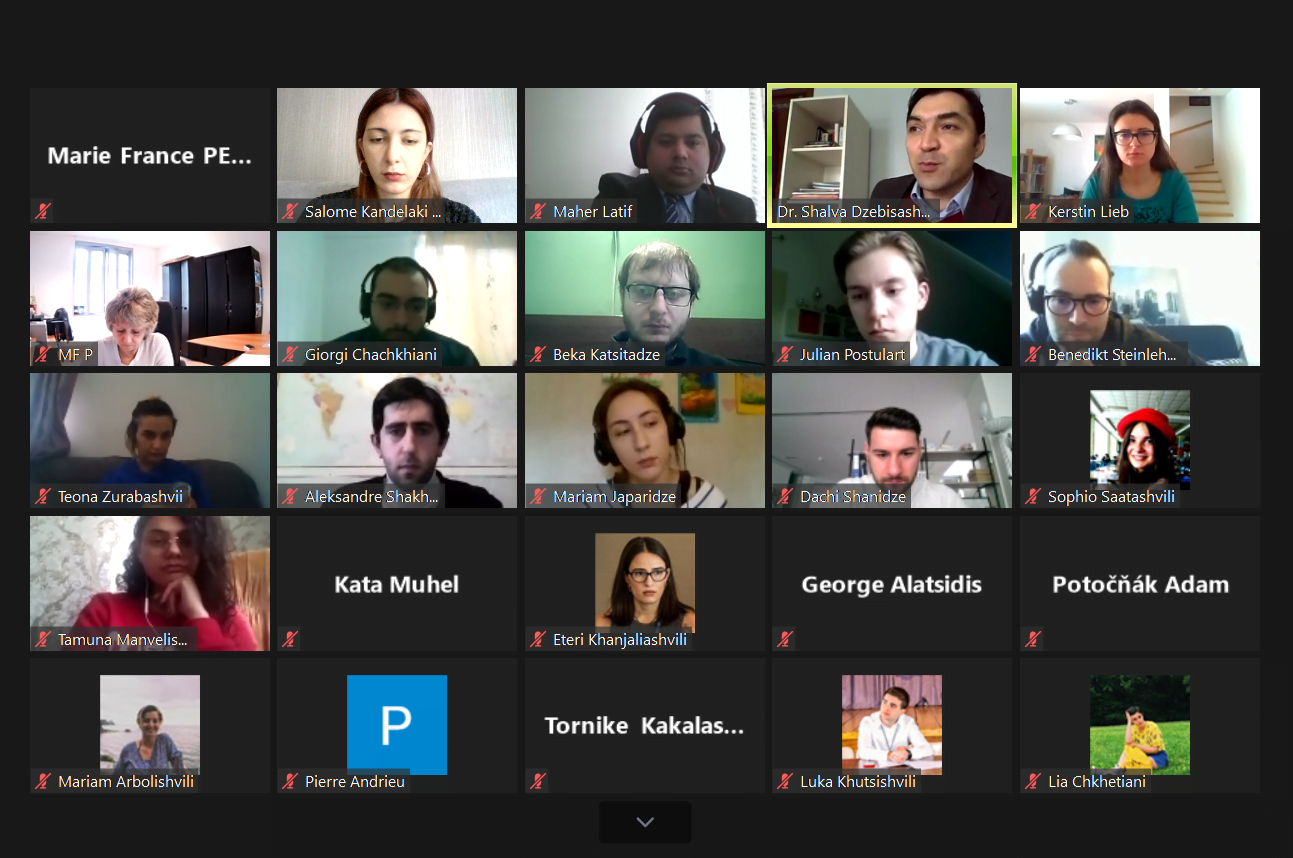 Black Sea Winter University 2021
On 17-19 February, Black Sea Winter University 2021 took place virtually! The topic of this year's program was Conflicts and Geopolitics in the Black Sea Region.
Black Sea Winter University offers a high-profile study course for students of graduate programs in political science, international relations and other relevant fields. The course is designed for both Georgian and international students.
3-day program included the lectures and interactive seminars on the new geopolitical reality of the South Caucasus region, the Euro-Atlantic perspectives of Georgia, Armenia and Azerbaijan and how these perspectives are seen from the side of the EU member states. Students had a chance to learn more about the challenges that the shifting international context poses for the region. Black Sea Summer University provided an opportunity for selected students to attend lectures conducted by renowned experts on Eastern Europe and the Black Sea region from various universities.
Topics & Trainers:
The general Energy Environment and Trends in the Region – Ariz Huseynov, Lecturer in Energy Politics, Khazar University Baku, Azerbaijan.
The role and games of the great powers in the Caucasus after the Nagorno-Karabakh war and pandemic – Ambassador Pierre Andrieu, Senior Adviser, "Schneider Group", France.
European Green Deal and EaP countries – Florent Parmentier, Dr, Secretary General of CEVIPOF (Sciences Po Political Research Center), Associate Researcher, HEC Paris, France.
Destructive Russian Cyber Operations and Strategic Direction of cyber defense – Andro Gotsiridze, Founder, Cyber Security Studies & Education Center (CYSEC), Georgia.
Relations between Turkey and Georgia: a Regional Perspective – Çiğdem Üstün, Associate Professor, Nişantaşı University Istanbul – Turkey.
Georgia's security posture, defense policy and challenges of the Euro-Atlantic integration – Dr. Shalva Dzebisashvili, Associate Professor, University of Georgia.
The significance of the Nagorno-Karabakh conflict for the South Caucasus region – Prof. Thornike Gordadze, French Institute for Higher National Defense Studies, France.
The Eastern Partnership – S.E. Oleg Serebrian, Ambassador of Moldova in Germany.
Black Sea Winter University 2021 was opened by Dr. Kornely Kakachia, Director of Georgian Institute of Politics (GIP) and Marie-France Perdigon, Director of Summer University Programme, Centre International de Formation Européenne (CIFE), Nice, France.
Black Sea Winter University, which takes place annually is organized by Centre International de Formation Européenne (Nice University) and the Georgian Institute of Politics (GIP).
---