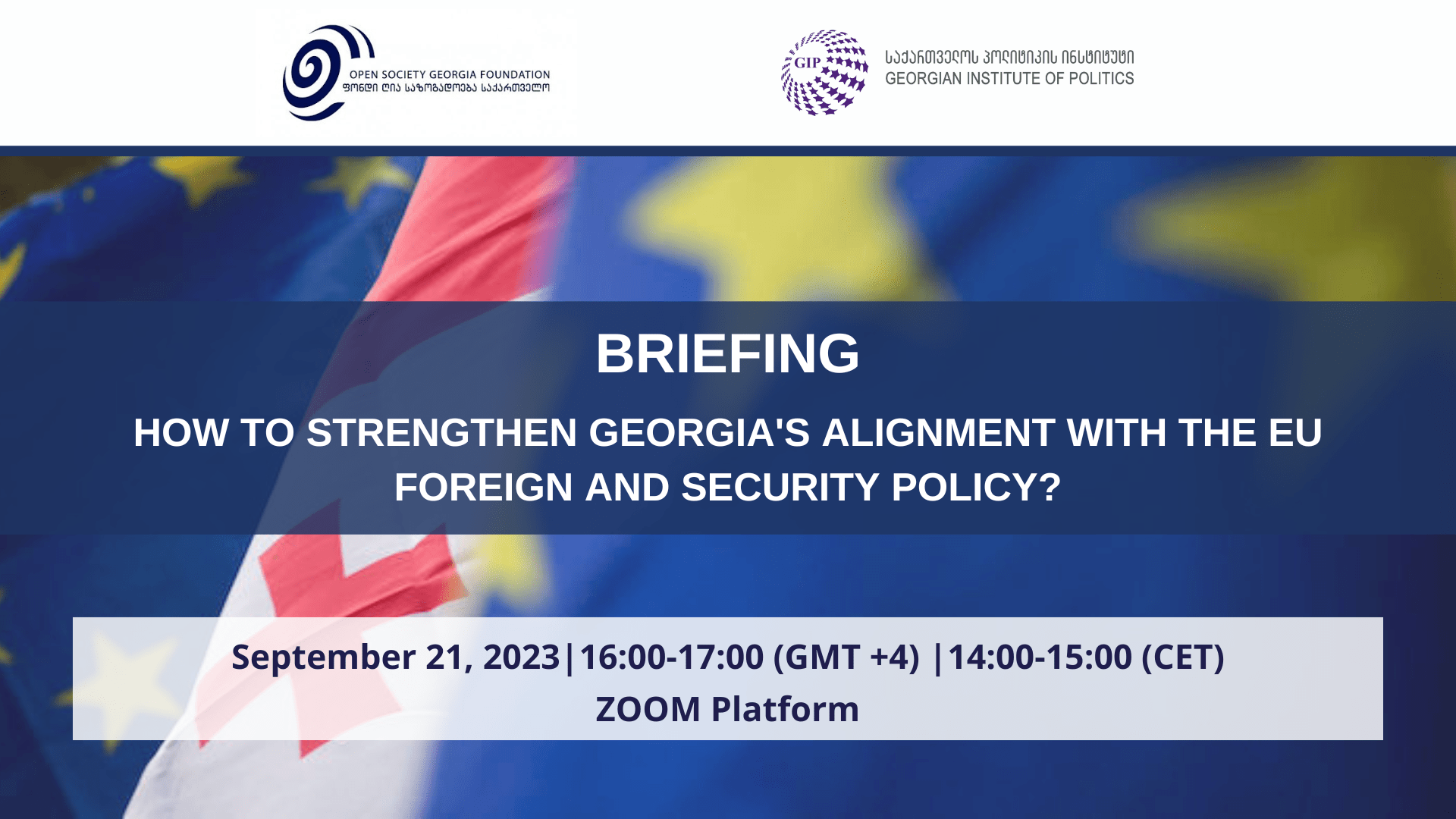 Briefing: How to Strengthen Georgia's Alignment with the EU Foreign and Security Policy?
Registration is required to attend the event: register here  👈
Georgian Institute of Politics, in cooperation with the Open Society Georgian Foundation (OSGF), is pleased to invite you to a virtual briefing – "How to Strengthen Georgia's Alignment with the EU Foreign and Security Policy?" which will take place on September 21, from 16:00 to 17:00 GMT+4 (Georgian, Armenian and Azerbaijani times) on Zoom Webinar Platform.
Guest speakers:
Dirk Schuebel, EU Special Envoy, Eastern Partnership
Petras Auštrevičius, MEP (Renew Europe Group, Lithuania), Member of Committee on Foreign Affairs and Delegation to the Euronest Parliamentary Assembly
Dr. Nona Mikhelidze, Senior Fellow, Istituto AffariInternazionali (IAI), Rome
Georgia's recent foreign policy strategy is characterized by notable deviations from the country's long-stated EU aspiration and alignment with the West. The Georgian Dream's government has made a series of decisions that strengthen Georgia's dependence on Russia and may just undermine Europeanization efforts. Furthermore, the newly signed Strategic Partnership agreement between Georgia and China raised questions about Georgia's foreign policy vector. While the EU accelerated the integration process for the Associated Trio last year, Tbilisi's lukewarm support to Ukraine in its war against Russia and the recent controversial foreign policy posture has called into question Georgia's alignment with the EU CFSP.
The briefing aims to introduce the EU CFSP principles and trends; evaluate Georgia's alignment and the recent decline in this regard; and provide a platform for the discussions about the solutions. The following questions will be the focus of the meeting:
What is the EU CFSP, and what is the role of the policy in the enlargement process of the EU?
How the decreasing alignment rate with the EU CFSP can impact Georgia's EU integration?
How can Georgia keep in line with CFSP?
Working language: English
To attend the event, please register here. 
Please also note that the invitation is transferable to your designated representative from your organization.
We are looking forward to seeing you at the briefing.