Closed–door Discussion – Georgia's European Perspective After the EU Council – Next Steps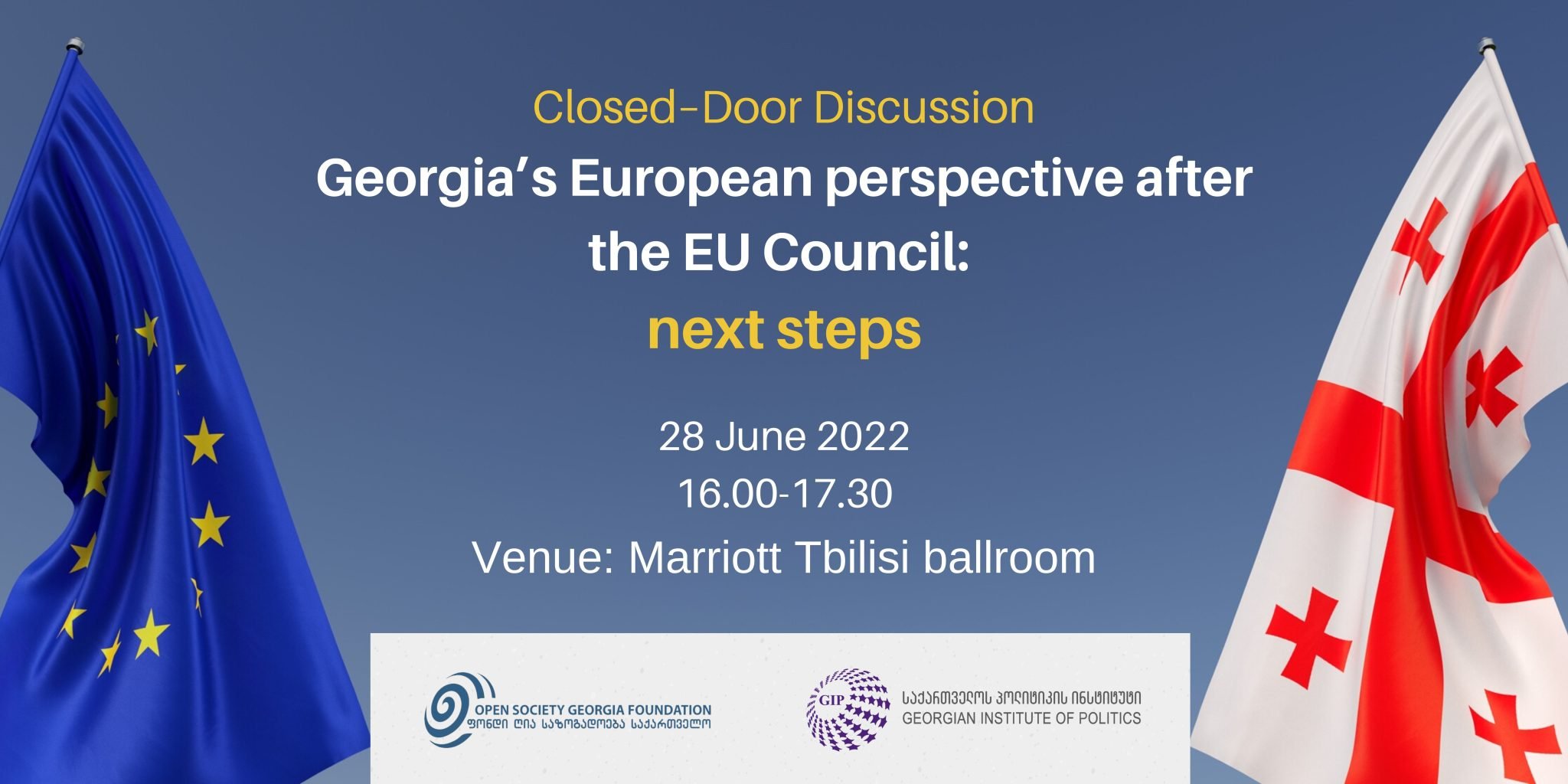 📣  Registration is required to attend the event: register here
Georgian Institute of Politics is pleased to invite you to the closed-door discussion – "Georgia's European Perspective After the EU Council: Next Steps."
The event will be held on Tuesday, June 28, from 16:00 -17:30 at Tbilisi Marriott, Ballroom (13 Shota Rustaveli Ave, Tbilisi 0108).
On 3 March, following Ukraine's application, Georgia submitted its formal request to accede to the EU. It was one of the few government's political actions that received full support from all main opposition parties, and was among the demands of massive pro-Ukraine protests on the streets of Tbilisi. Georgia has repeatedly demonstrated its strong will to join the EU evidenced by an overwhelming level of support from the Georgian population and enshrined in the Constitution. However, protracted political crisis, diverging from EU's mediation to strengthen democratic reforms, refusing micro-financial support – and finally, ambiguous position in the face of Russia's aggression raises questions about the political commitment of the Georgian government.
Nonetheless the application of Georgia, as well as Ukraine and Moldova, has been welcomed by some in the EU as a geopolitical opportunity to expand the EU security community and strengthen its ties to Eastern neighbourhood. The European Parliament in its resolution acknowledged that "the legitimate aspirations of the people of Georgia deserve to be fulfilled and therefore calls for the EU institutions to work towards granting EU candidate status to Georgia".
While the response to Georgia's application will be made known after the European Council meeting on 23-24 of June, it is reasonable to expect conditionality that reflects current political challenges in Georgia – which will become the basis for further EU integration efforts.
The discussion will reflect on the Summit results and bring forth the perspectives Georgian think tanks and civil society representatives on the following questions:
How to assess the EU Summit results and its implications for Georgia's further Europeanization?

What could be best strategies to communicate the EU response to the wider public, to both push for change and maintain motivation and public support for the process?

What could be the next steps forward in realigning the foreign and security policiesof Georgia and the EU?