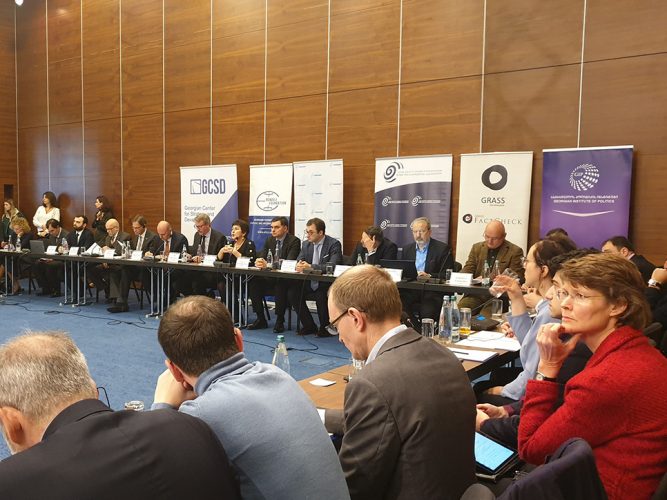 Future of Eastern Partnership – Georgian Perspective
In the summer of 2019, the European Union launched consultations with Georgian CSOs on the future of the Eastern Partnership. In response to this process, on the initiative of the Open Society Georgia Foundation, five Georgian think tanks have produced a joint document describing the ways of transforming the Eastern Partnership in order to address the expectations of its member states.
The document addresses questions of public interest: how can the EU contribute to the economic development of Georgia and the EaP countries, legal employment in Europe, education reform, rule of law, national security and public awareness in the EaP and the EU member states.
The document was presented on December 16, 2019. Vakhtang Makharoblishvili, First Deputy Minister of Foreign Affairs, David Songulashvili, Chair of the EU Integration Committee, Parliament of Georgia, H.E. Carl Hartzell, Ambassador of EU to Georgia, and H.E. Hubert Knirsch, Ambassador of Germany to Georgia and representatives of media and civil society attended the meeting.
The document is prepared by: Georgian Center for Strategy and Development (GCSD), Georgian Foundation for Strategic and International Studies (Rondeli Foundation), Georgian Institute of Politics (GIP), Georgia's Reforms Associates (GRASS), The Levan Mikeladze Foundation with support of Open Society Georgia Foundation.
---
---
Media about the event