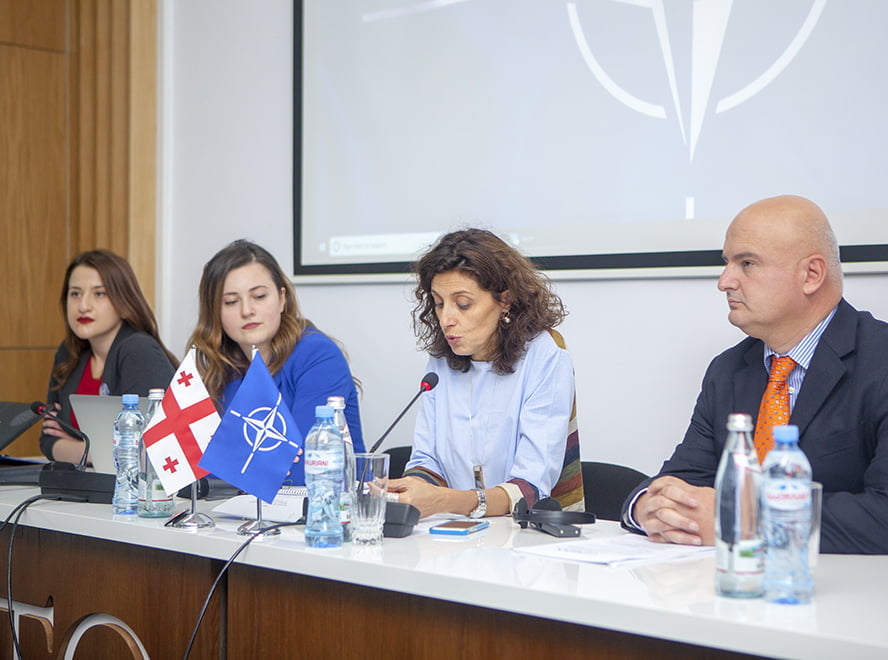 "Georgia's integration to NATO: A successful endeavor" – GIP launches social ads
On 21 November the Georgian Institute of Politics (GIP) in partnership with the NATO Liaison Office in Georgia, organized the presentation of social advertisements, produced to raise awareness about the achievements of Georgia's integration process with the NATO during the past 10 years. 
Welcoming remarks were delivered by Rosaria Puglisi, Head of the NATO Liaison Office (NLO) and Prof. Kornely Kakachia, Director of Georgian Institute of Politics (GIP). Rosaria Puglisi addressed NATO-Georgia relations in general, as well as, achievements made within the cooperation. In her speech, Puglisi discussed the importance of efforts to raise awareness on projects and programmes implemented in Georgia with NATO's financial support.  Prof. Kornely Kakachia mostly focused on the value of effective strategy while communicating various aspects of NATO-Georgia cooperation to the public. GIP director also mentioned, that very often even among experts, NATO-Georgia relation is discussed as an issue of a general political importance and not enough time is spent on talking about specific programmes.
The project and social advertisements were presented by Mariam Grigalashvili, GIP Policy Analyst and Mariam Akhalkatsi, GIP Communication Coordinator. Grigalashvili discussed the process and results of the research that was conducted within the framework of this project and specific steps that were taken, such as – desk research, requesting official  information from the ministries, conducting interviews with experts and recording official interviews with the Minister of Defence of Georgia, Levan Izoria and the Minister of Internal Affairs of Georgia, Giorgi Gakharia. In her speech, Mariam Akhalkatsi discussed the technical aspects of creating the content for the videos and their production process in general. She pointed out, that main challenge was to transform research output into main messages for video scripts, in order to make it concise and easily understandable for the wide audience, since time frame for social advertisements is 30 seconds.
"How to communicate achievements of NATO-Georgian cooperation with the public?" was the main topic of the panel discussion, that was held after presenting social advertisements. Experience sharing session was moderated by the GIP director, Kornely Kakachia. Panelists included: Maka Kevlishvili, Head of Strategic Communications Policy and Planning Section of the Ministry of Defence of Georgia (MOD), Veka Modebadze, Head of Euro-Atlantic Integration Division of the Ministry of Internal Affairs of Georgia (MIA), Rosaria Puglisi, Head of the NATO Liaison Office  in Georgia and Tamar Kintsurashvili, Executive Director of the Media Development Foundation (MDF).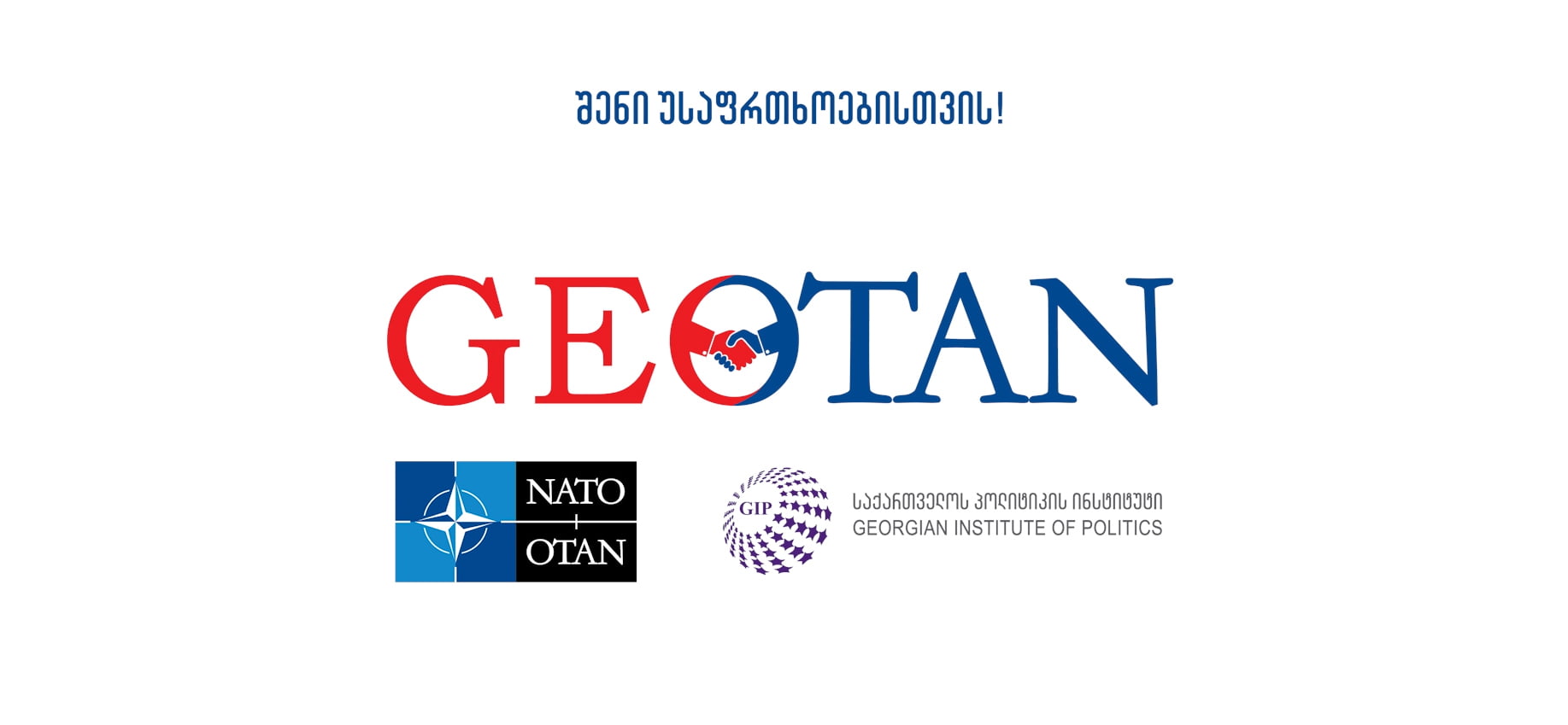 Maka Kevlishvili pointed out the importance of communication between ministries – exchanging information about activities within the framework of certain projects funded by NATO – emphasizing, that this will simplify later process of delivering this information to public. Veka Modebadze addressed the topic of the Black Sea Security, its importance, NATO's role in it and partnership with the MIA. Tamar Kintsurashvili discussed the ways to combat Russian propaganda and the importance of raising awareness on NATO's role in strengthening Georgia's defence capabilities.
While engaging in a discussion, in her speech Una Sighvatsdóttir, Public Diplomacy Officer of NATO Liaison Office in Georgia, underlined the role of content and the importance of choosing the right format for it to reach the audience. "The content is King, but it has to be good, because otherwise, people aren't going to pay attention to it, they aren't going to take in the message and they aren't going to spread the message. So the content has to be good and we believe that these videos, that we've just watched here are exactly that." – emphasised Una Sighvatsdóttir.
4 videos produced in the framework of the project – "Georgia's Integration to NATO: 10 Years Since Bucharest Summit" – are broadcast in a format of a social advertisement on Georgian TV channels (including regional TV stations) as well as, are promoted through online media agencies and social media. Content of each video is translated in 3 languages – Armenian, Azerbaijani and English – to reach a not only all Georgian citizens but also international audience.
The project is implemented by the Georgian Institute of Politics, with the financial support of the NATO's Public Diplomacy Division (PDD).
---
Social Ads
Georgia's Integration to NATO: 10 Years Since Bucharest Summit #GEOTAN
NATO funding in Georgia #GEOTAN
NATO's role in strengthening Georgia's defence capabilities #GEOTAN
NATO's role in Black Sea Security #GEOTAN
---