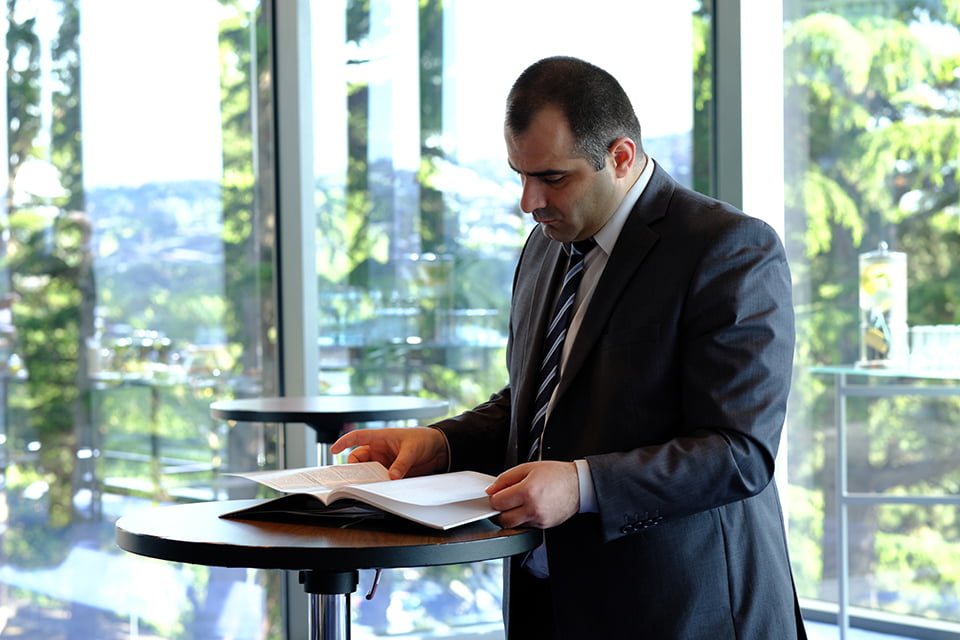 GIP Hosted International Conference – "Democratization and Europeanization Agenda During Uncertain times: Georgia in Focus" #GEODEM2018
While Georgia has made an impressive progress on Europeanization agenda, its capacity to consolidate democracy is still uncertain. To discuss the prospects and challenges of Georgia's democratization and Europeanization, on 2 May, 2018, the Georgian Institute of Politics with support of the National Endowment for Democracy (NED) hosted the international conference, "Democratization and Europeanization Agenda During Uncertain Times: Georgia in Focus". The conference included three panels: domestic drivers of democratization and Europeanization; Georgia's immediate neighborhood; and influence of Western conditionality.
The first panel's discussion included Tuya Altangerel (Deputy Resident Representative of UNDP in Georgia), Dr. Bakur Kvashilava (Dean of the School of Law and Politics at GIPA), Tinatin Khidasheli (former Minister of Defence of Georgia),Dr. Barbara Kunz (researcher at the Institut Français des Relations Internationales) and Koba Turmanidze (Director of the Caucasus Research Resources Center in Georgia). Panelists shared assessments regarding the lack of democratic consolidation in Georgia. Ms. Altangerel referred to lack of public engagement in democratic processes, and challenges arising in light of Georgia's move towards Parliamentary system and the recent constitutional changes. She highlighted the progress in the areas that UNDP is supporting in Georgia: de-centralization, civil service reform and the concept of open parliament. Dr. Kvashilava addressed concerns regarding the readiness of domestic actors of democratization to actively engage in political processstressing that the degree of Georgia's democracy is largely defined by international conjuncture. According to Khidasheli, "Political elite, as understood in European democracies, hasn't been able to form in Georgia". Dr. Kunz presented her paper on Georgia's European perspectives within the context of current debates on the EU's future, emphasizing that the attitudes of France and Germany towards the EU's foreign policy, although coordinated, are not necessarily the same. Finally, Koba Turmanidze presented Europeanization and democratization process of Georgia in figures, speaking about the population's attitudes towards Georgian government's declared goal to join the European Union. According to the data of CRRC/NDI 2018, opinion poll, public Attitudes in Georgia, on the question, "How much of democracy is Georgia today?", 45% of respondents answer – "A democracy with major problems". While speaking about the support to Georgia's EU membership is high amounting to 75%, this support, however, is in many cases delicate and fragile.
The second panel involved Dr. Ghia Nodia (Professor at Ilia State University), Joseph Larsen, (Affiliated Analyst at the Georgian Institute of Politics), Dr. Eka Akobia (Dean of Caucasus School of Governance at Caucasus University), Dr. Ivanna Machitidze (Assoc. Prof. at International Black Sea University) and  Dr. Tracey German (King's College London). Panelists addressed the issue of the impact of Georgia's immediate neighborhood on the democratization process, stressing that neighbors have extensive influence over Georgia's democratization. Ghia Nodia emphasized the role of regional context pointing to the lower standards by which Georgia's democratization process is assessed. "Being a beacon of democracy is somewhat dangerous because the benchmark you are compared to is very low and it's easier to keep supporters satisfied". Joseph Larsen presented his new policy brief, "Good Fences Make Good Neighbors: How Georgia Can Resist Authoritarian Pressure", noting that Georgia's linkages with democratic countries are relatively weaker while its relations with authoritarian neighbors are much stronger, which adds to the pressure for democratization standards in Georgia. Dr. Akobia emphasized the importance of Georgian interpretation of the Europeanization process, stressing that Georgia's Europeanness is defined less by geography and more by identity. Ivanna Machitidze focused on the influence of the Russian federation on Georgia's Europeanization and democratization agenda. Presenting her research findings, Machitidze underlined the need for experience of Western countries while dealing with the Russian Federation. Dr. Tracey German presented her paper – "Between a Rock and a Hard Place? Georgia's Regional Balancing Act", noting Georgia faces the challenge of balancing idealism and pragmatism in foreign policy.
The third and final panel featured Dr. Bidzina Lebanidze (Universität Bremen), Dr. Davit Darchiashvili (Professor at Ilia State University), Tamar Kekenadze (Secretary General of Free Democrats),Dr. George Mchedlishvili (Assoc. Professor at International Black Sea University) and Ivane Chkhikvadze (EU Integration Program Manager at Open Society Georgia Foundation). Panelists agreed that Europeanization process leads Georgia's democratization agenda. Presenting his research – "Making Georgia's democracy work: Western political conditionality and domestic agendas of political parties". Bidzina Lebanidze discussed both successful and unsuccessful cases of Western conditionality in Georgia. Dr.  Darchiashvili put under question Georgia's ability to lead Europeanization and democratization process without external pressure. Meanwhile, Tamar Kekenadze argued that Georgian society has not realized that democratization process shall be driven internally. Dr. Mchedlishvili noted that when speaking about Georgia's case West shall imply stricter conditionality. Chkhikvadze called on the government to develop EU integration roadmap, initiated in December 2017, and recommended to act as a candidate country when speaking on Georgia's membership to the EU.
---
Compendium of Policy Briefs – May 2018
---
Press about the Conference:
---