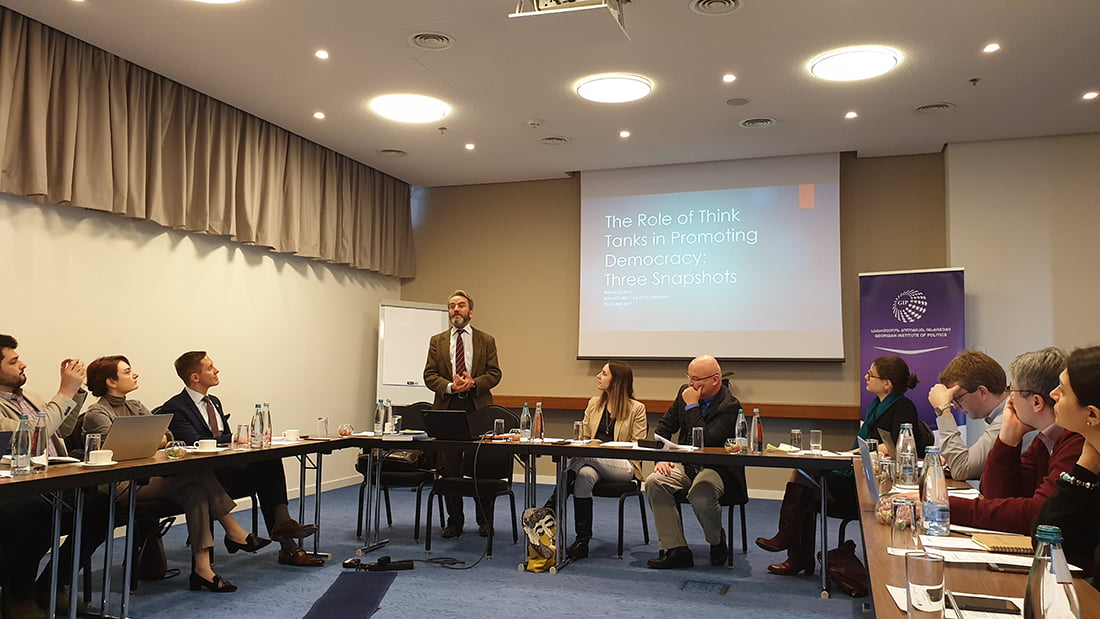 GIP Hosted the Tbilisi Think Tanks Forum
On December 9, 2019 the Georgian Institute of Politics (GIP) hosted the Tbilisi Think Tanks Forum to discuss the role of think tanks in shaping the future of Georgian Democracy. The Forum offered an opportunity for think tankers, policy entrepreneurs and think tanks funders, registered and operating in Georgia, to share experiences, discuss solutions to common challenges and strengthen partnerships among civil society actors.
Opening remarks were delivered by GIP Director, Kornely Kakachia, and Elspeth Suthers, Senior Program Officer for Eurasia at the National Endowment for Democracy, followed by a keynote speech on the role of think tanks in promoting democracy, by Dr. Hans Gutbrod, Transparify Director.
After the keynote speech, GIP Deputy Director, Renata Skardziute-Kereselidze invited attendees to participate in thematic working groups' session. The 1st working group moderated by Shorena Lortkipanidze (CCDS), focused on measuring the impact of think tanks and research organizations and challenges to inform and impact policies in Georgia, while the 2nd working group, moderated by John DiPirro (IRI) brainstormed how to build credibility and what tools can be used to strengthen trust in research organizations.
The two working groups have reported the major points of their discussion on the plenum session moderated by Levan Tsutskiridze (EECMD). Invited speakers – Kakha Gogolashvili (GFSIS), Archil Gegeshidze (Levan Mikeladze Foundation), Zaza Bibilashvili (Chavchavadze Center), Lasha Tughushi (EI-LAT) and   Kornely Kakachia (GIP) have further discussed how to build credibility and produce balanced analysis; how to increase impact on shaping policy narratives; and what should be the think tanks response to the issues of populism, polarization and diminishing trust.
The event was organized with the financial support of the National Endowment for Democracy (NED).