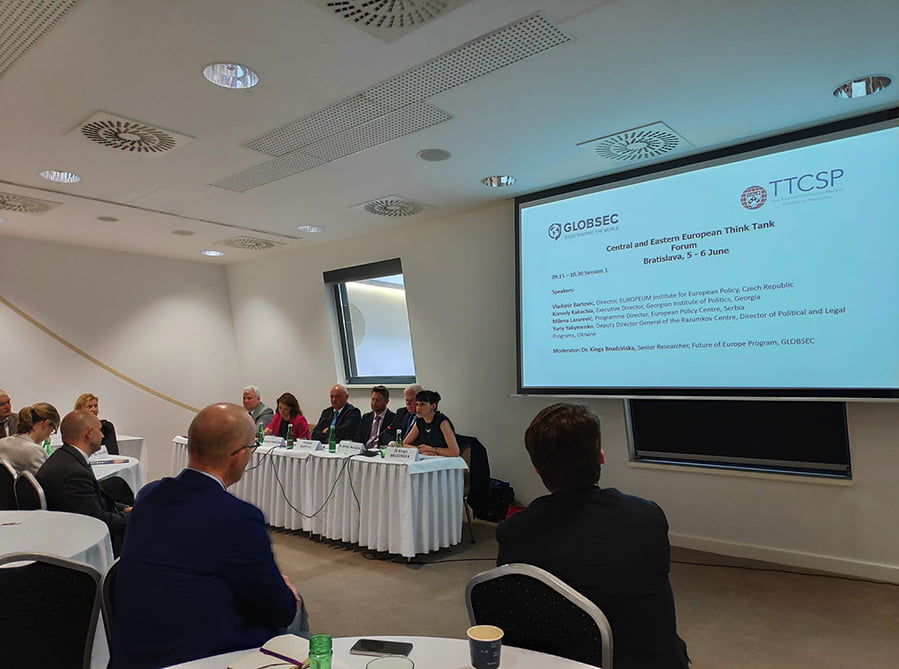 GIP participates in the Central and Eastern European Think Tank Forum in Bratislava
On June 6-7 GIP Director Kornely Kakachia took part in the Central and Eastern European Think Tank Forum, held in Bratislava, Slovakia. The summit gathered representatives of think tanks from Central and Eastern Europe to discuss common challenges and develop solutions to political, technological, economic, and organizational challenges of today.
The first panel discussion, where Dr. Kakachia was invited to speak, was moderated by Dr. Kinga Brudzińska (Senior Researcher, Future of Europe Program, GLOBSEC), and included Vladimír Bartovic, (Director, EUROPEUM Institute for European Policy, Czech Republic), Milena Lazarević, (Programme Director, European Policy Centre, Serbia), Yuriy Yakymenko, (Deputy Director General of the Razumkov Centre, Director of Political and Legal Programs, Ukraine). The panelist discussed the role of Central and Eastern Europe in the global order by addressing the following questions:
– What is CEE's position and role in the rapidly changing global order of today? What kind of relations does it have, want and can have with Western Europe, EU institutions, the US, and neighboring countries?
– How will the region influence the future of the European Union and its external policies? How does the allegedly deepening East-West divide affect the future of the region?
– What is the role of think tanks in shaping the region's future trajectory? How can think tanks in the region strengthen their partnerships within the region but also with Western European, American and more Eastern counterparts?
The Summit explored not only the ways in which think tanks are currently making a difference and finding solutions to contemporary policy challenges, but also how they can become increasingly relevant in these tumultuous times. In addition to these pressing contemporary policy challenges, the Summit also focused on sharing the best practices for raising funds, recruiting key staff, harnessing new and innovative technologies and responding to increased public scrutiny and discontent.
The event was hosted by GLOBSEC in partnership with the Think Tanks and Civil Society Program, Lauder Institute, University of Pennsylvania.
---