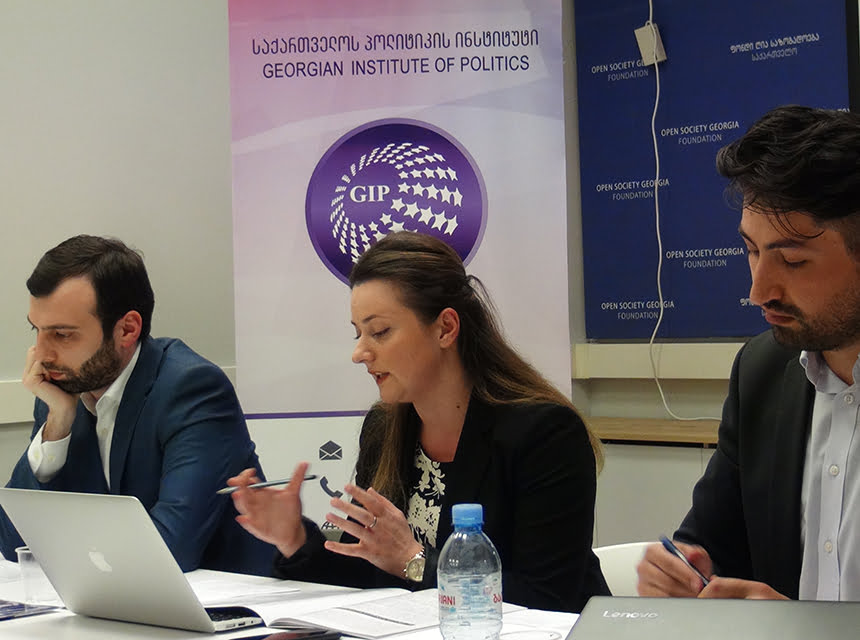 GIP Presents a New Policy Paper on Challenges for Georgia's Visa Liberalization
On 20 April Georgian Institute of Politics presented a new policy paper – "Challenges for Georgia's Visa Liberalization: Political Context and Statistics" by GIP policy analyst – Mariam Grigalashvili and GIP affiliated analyst – Mikheil Sarjveladze. 

Policy paper analyzes the level of risk Georgia's visa-free regime is facing and determine if the statistical data, which has been used as an argument by political groups from different EU member states to justify triggering of the suspension mechanism, is based on a fair assessment.
During her presentation, Grigalashvili addressed the situation prior to the introduction of visa-free travel regime for Georgia and problems emerging in 2018. She analyzed challenges for Georgia's Visa Liberalization- triggering of the suspension mechanism and its possible consequences for Georgia. Additionally, Mariam Grigalashvili presented recommendations for the Georgian government – a list of effective steps to be taken in order to reduce the threat that the suspension mechanism will be triggered.
According to the document, the Georgian government should:
Strengthen discussions with EU member states about recognizing Georgia as a safe country and organize information campaigns for Georgian public.

Implement international best practices on controlling the flow of Georgians possibly seeking asylum abroad.

Accept responsibility of providing financial assistance to repatriate violators.

Carry out information campaigns about the strict obligations against those who violate the rules of visa-free regime.

Provide a complex analysis of the database of those individuals who are violating the rules of visa-free travel regime.

Actively work on information campaigns directed to debunk the myths.

Closely cooperate with those countries that have initiated the issue of revisioning visa liberalization for Georgia.

Activate the work of law-enforcing structures against those companies and criminal structures that support the outflow of Georgians who are potentially seeking asylum abroad.

Pay particular attention to the possible falsification of facts.

Intensify its efforts regarding the opening of the job markets for Georgians.

Propose that the EU shares the practice of Schengen Information System (SIS).
The event was attended by journalists and representatives of international organizations, Georgian government and NGOs. 
---
Press about the Presentation:
---