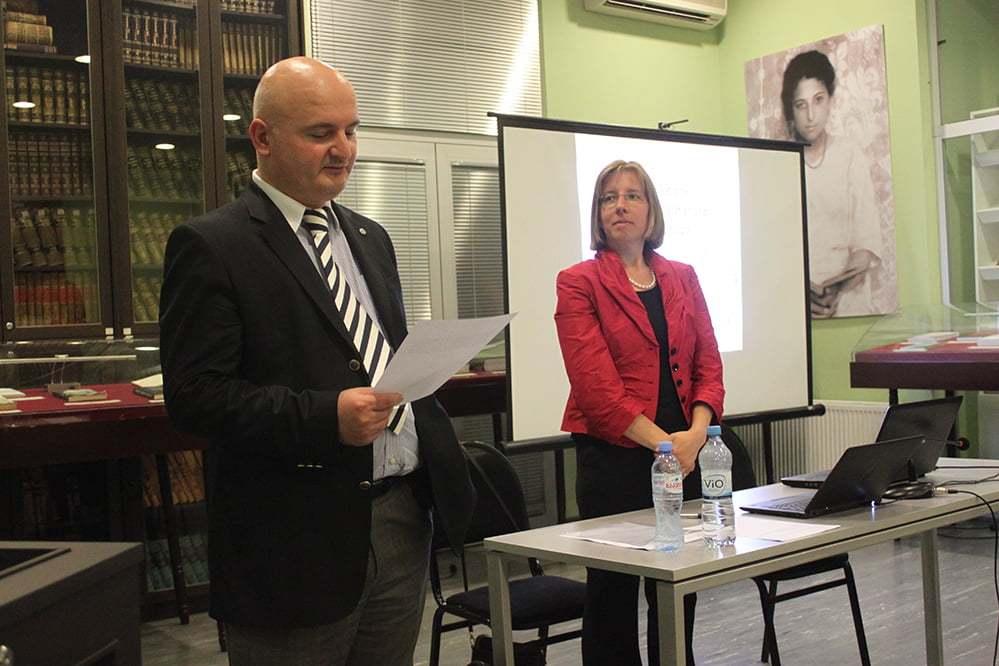 Public lectures – "Reviewing Europeanization – State of the Art"
EU institutions, policies, and theories of integration were the main topics discussed over three days of public lectures delivered by Prof. Dr. Andrea Gawrich. Ivane Javakhishvili Tbilisi State University (TSU) hosted Prof. Gawrich (Justus Liebig University Gießen) from 20-22 June 2017 within the framework of the Erasmus Plus program. Her lectures were given under the title "Reviewing Europeanization – State of the Art."
As a distinguished scholar in the field of Europeanization, Prof. Gawrich shared her knowledge and insights with TSU students. Students had the opportunity to learn more about Europeanization and its domestic effects, the domestic politics of EU member states, EU common foreign and security policy, and other topics relevant to Georgia's Euro-Atlantic integration.
"The public lectures were orientated on theoretical and factual knowledge, as well as, critical thinking and analysis. We discussed current challenges of the European Union and shared our ideas and opinions with the professor. Despite being particularly familiar with the EU affairs, the lectures have been very informative for me and now I look at some of the key issues regarding European Union from a new perspective."
– Ketevan Goletiani, Master of Public Administration, Tbilisi State University in cooperation with the University of Administrative Sciences Speyer (Germany), Tbilisi (Georgia)

"I found these public lectures very informative and useful for my classes and research."
– Mikheil Shavtvaladze , Visiting lecturer and PhD student of Social and Political Sciences, Tbilisi State University
To conclude the public lectures, Prof. Gawrich discussed future scenarios for the EU, which include enlargement to the Balkans, programs to combat youth unemployment, and possibility of a more innovative Association Agreement.
The Public lectures were facilitated by the Georgian Institute of Politics (GIP).
---