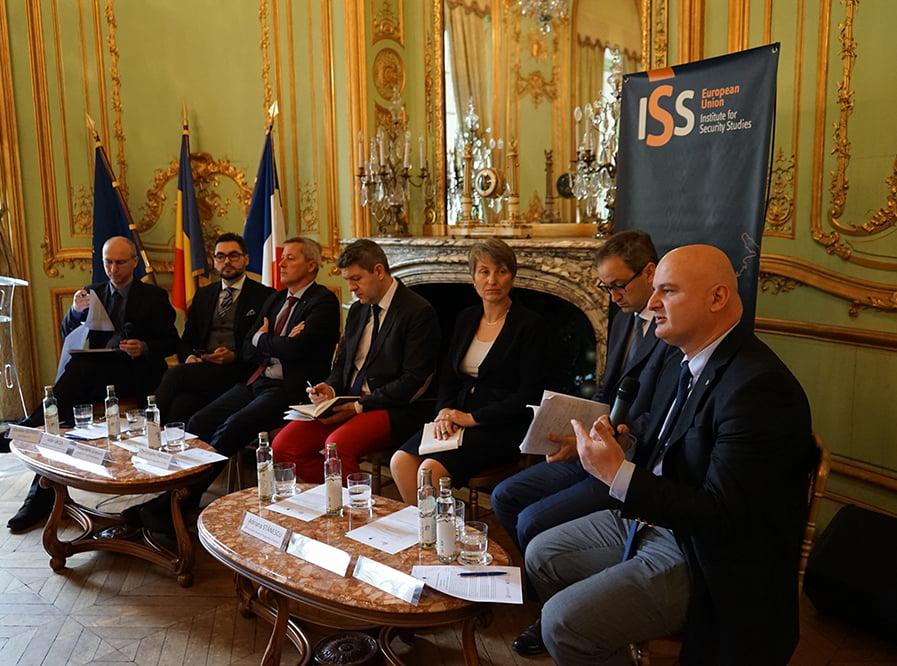 Roundtable discussion in Paris – "Eastern Partnership at the Crossroads: An Inside-Outside Reality Check"
On April 16 the Georgian Institute of Politics (Tbilisi), together with the EU Institute for Security Studies (Paris), the Romanian Embassy in Paris, the Institute for European Policies and Reforms (Chisinau) and New Europe Center (Kyiv) organized a roundtable discussion – "Eastern Partnership at the Crossroads: An Inside-Outside Reality Check" – in Paris, France.
The Reality Check debate focused on the state of current political developments, security challenges and views from the regional perspective on the status and future of the Eastern Partnership.
The EU and Eastern European partners share a vital interest in ensuring peace and security in Europe as a primary condition for their stability, prosperity, and development. The Eastern Partnership Reality Check debate aimed to examine the state of play of the European association process in Georgia, Moldova and Ukraine – the EaP Association Agreement (AA) signature countries, taking into consideration geopolitical and security constraints in the wider Black Sea area. By signing the AAs, the three countries have expressed political will to deepen relationship with the EU, undergo a series of comprehensive reforms, and increase trade relations through Deep and Comprehensive Free Trade Area. Following a set of implemented reforms, visa free travel to the Schengen area was put in place for citizens of Georgia and Ukraine, in addition to that of Moldova, in place since 2014, providing an impetus for deeper relationship.
At the same time, the three countries of the EU Eastern Partnership (EaP) policy are interconnected in geopolitical and security perspectives and experience significant pressure from Russia that seeks to retain them in its sphere of influence. To be able to effectively confront external security threats, the Eastern Partnership countries should be more resilient by overcoming domestic problems and implementing successful reforms.
The discussion brought together think tank representatives from Georgia, Moldova and Ukraine; as well as Romanian and French policy professionals, MPs, media, public officials, experts working on EaP issues, and international community representatives based in Paris.
The panel aimed to provide a realistic assessment of the current situation in Georgia, Moldova and Ukraine: what is the state of play in regard to the EU Association process? Are the reforms on track? Furthermore, the panel serves as a "reality check" of expectations: what do the EaP countries expect from the EU's EaP policy and how realistic are these expectations from the European point of view? What should be the future of the Eastern Partnership's format?
---