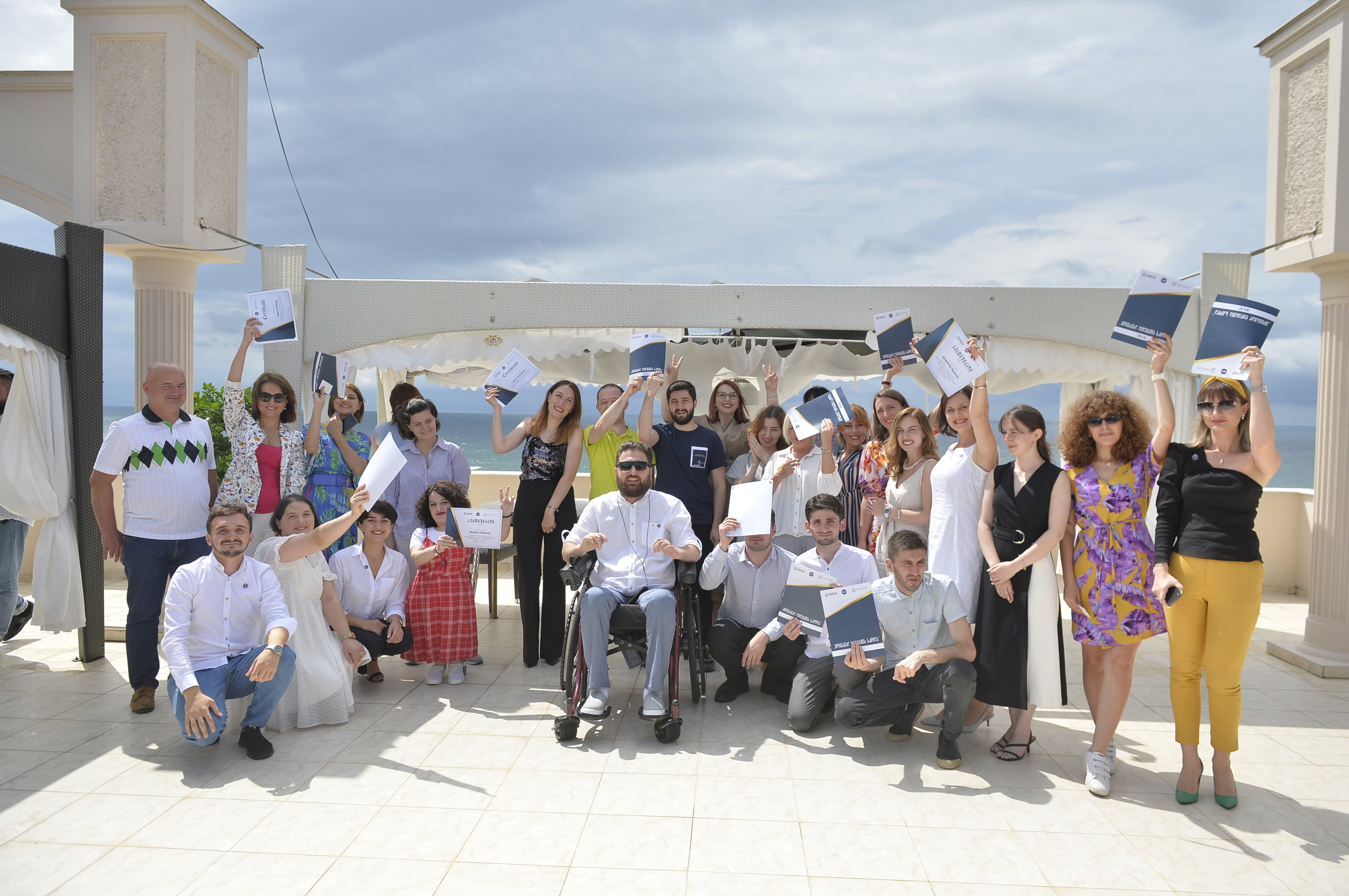 The final Closing Ceremony of the first phase of the "Emerging Leaders School" (ELS) was held for the participants from Adjara and Guria regions
On 2nd of August, in Kobuleti (Georgia Palace Hotel), Georgian Institute of Politics (GIP) held the final Closing Ceremony for the participants from Adjara and Guria regions. Similarly to the preceding closing events, here as well, the ELS participants from these regions had the opportunity to meet up, network, exchange ideas and discuss potential avenues for future cooperation.
Apart from that, the GIP team held a round of intense reflection with small groups of participants, on which the latter had a chance to share critical feedback with the team about various components of ELS, be it related to thematic or logistical issues. The reflection session revolved around discussing what they liked and what and how would they suggest to improve.
The event concluded with a Certificate Awards Ceremony, during which Kornely Kakachia, Director of GIP delivered Certificates to each of the participants.
The #ELS2020 lasted for 6 months from February to July and 18-35-year-olds with diverse backgrounds from Tbilisi, Kvemo Kartli, Samegrelo-Zemo Svaneti, Adjara and Guria participated in the initiative.
In each of these targeted regions, the first phase of the ELS covered 24 training sessions (including online) on a wide array of topics such as Education policy in Georgia (trainer Revaz Apkhazava), Religion and tolerance (trainer Levan Gigineishvili), Public speaking (trainer Andro Dgebuadze), Economic challenges of Georgia and the ways to overcome them (trainer Konstantine Sulamanidze), Women's political participation (trainer Maka Meshveliani), Civic patriotism, nationalism and ethno-cultural diversity (trainer Ghia Nodia), Development and managing of community projects, fundraising (trainer Khatuna Ioseliani), etc. Participants of ELS had a unique opportunity to enrich their knowledge and raise their awareness on various most important/relevant issues as well as collaborate, plan and hold open discussions and share their views with politicians, experts, and leaders.
Here, you can listen to the ELS participants from Adjara, Guria and Samegrelo-Zemo Svaneti regions about their experience at and the impressions of the ELS2020:
The second phase of the ELS is planned to kick off in September, this time covering other (new) regions of Georgia.  
The initiative "Emerging Leaders School" (ELS) is being implemented within the framework of the project "Promoting Youth Transformational Leaders in Georgia" by Georgian Institute of Politics (GIP) with the financial support of USAID/Georgia and in partnership with CRRC Georgia. The project aims at raising youth awareness on political processes and democratization as well as developing their leadership skills and enhancing their participation and representation in public life.