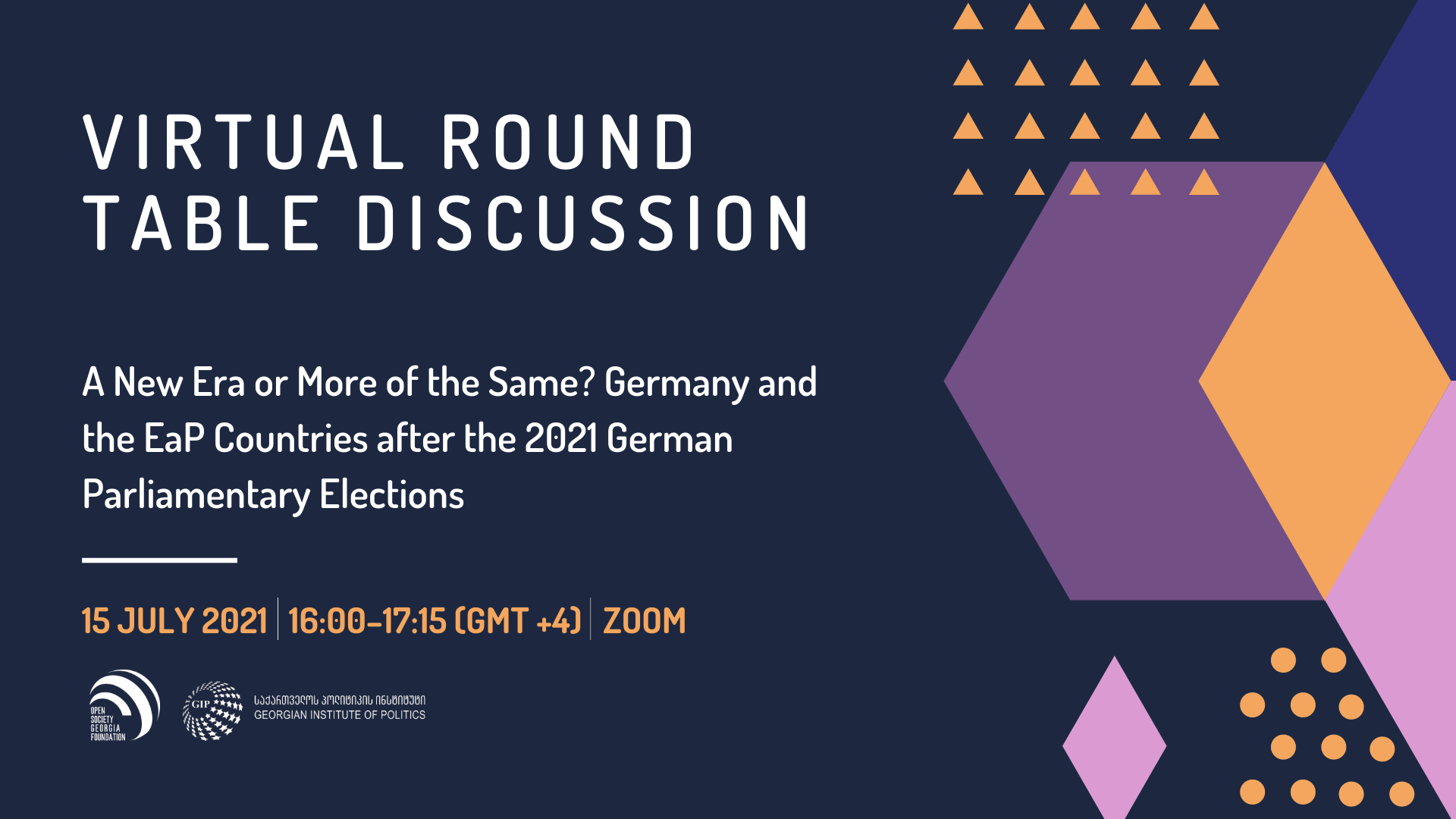 Virtual Discussion: Germany and the EaP countries after the 2021 German parliamentary elections
On 15 July, GIP will host the Virtual Round Table Discussion: A new era or more of the same? Germany and the EaP countries after the 2021 German parliamentary elections.
German foreign policy towards Eastern Europe and EU's Eastern neighborhood has been a puzzle for political elites in the Associated Eastern Partnership countries and beyond. On the one hand, Berlin's support has been decisive behind sectoral integration of the EaP countries with the EU structures including Association Agreements and visa free regimes. Germany also provided some protection to Georgia and Ukraine by galvanizing much of the EU behind the sanctions against Russia. On the other hand, however, Berlin still holds a veto on the EaP countries' EU and NATO prospects, avoids any direct involvement in their security challenges, and remain Russia's key European partner in energy.
Ambivalence of the German approach to EU's Eastern frontiers has once again become a topic of discussion recently when political elite in Berlin turned a deaf ear to a suggestion by Robert Habeck, head of German Green party, of supplying Ukraine with defensive weapons. German Greens are considered by many as outliers in their foreign policy thinking – which is usually focused on human rights and consequent criticism of authoritarian states like, Russia and Turkey. As Green's are expected play a bigger role in the upcoming 2021 Bundestag after parliamentary election the question arises whether the post-election constellation in Berlin will have any significance on Germany's approach to Russia and the EaP region.
This event will bring together policy practitioners and scholars from Germany for exchange of knowledge and critical discussion on the possible scenarios after the 2021 parliamentary elections in Germany and whether the EaP countries and Russia should expect a new era in German foreign policy or rather continuation of old policies.
The event is part of the project "Georgia's Europeanization: Assessing Progress Post 2020", organized with the support of the Open Society Georgian Foundation (OSGF).
Programme:
16.00-16.10 Welcome remarks:

Prof. Dr. Kornely Kakachia, Director, Georgian Institute of Politics.

16.10-16.20 Keynote address:

H.E. Hubert KNIRSCH, Ambassador to Georgia, Federal Republic of Germany.

16.20-16.35 Presentation:

Dr. Bidzina Lebanidze FSU Jena & GIP – The "German Question" that baffles EU's Neighbors: Can Berlin become a new center of gravity for Associated countries?

16.35-17.15 Comments and discussion:

Dr. Andreas Umland, Research Fellow, Stockholm Centre for Eastern European Studies.

Elguja Khokrishvili, Former Ambassador of Georgia to Federal Republic of Germany; International Fellow at the Friedrich-Schiller University of Jena, Germany.

Dr. Lasha Bakradze, Professor, Ilia State University of Tbilisi; Director, Giorgi Leonidze State Museum of Literature.
Moderator: Renata Skardžiūtė-Kereselidze, Deputy Director, Georgian Institute of Politics.
The event will be held in English.