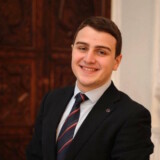 Ioseb 'Joseph' Jorjoliani
Nana Gurgenidze and Ioseb 'Joseph' Jorjoliani
GIP Young Experts Network
The geopolitical situation of the European Union (EU) has changed dramatically in the past months. After the British exit from the union, it became apparent that substantial changes have to be made within the organization. The UK has been the main driving force of EU when it came to fighting crime and terrorism, and after Brexit the capacity of other EU member-states to combat these problems was drastically reduced. On December of 2003, the EU adopted a European Security Strategy (ESS), which provided a conceptual framework for the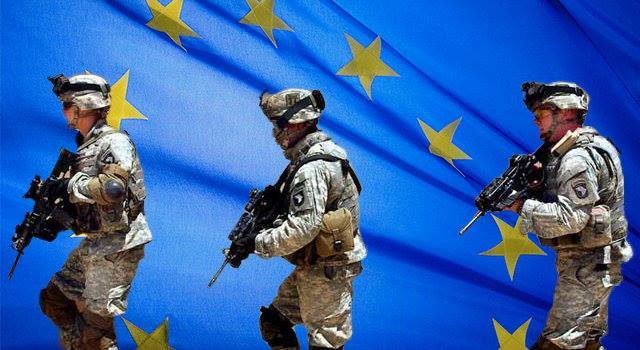 Common Foreign and Security Policy (CFSP). The ESS document was titled "A Secure Europe in a Better World" and underlined five key threats to the continent: terrorism, proliferation of weapons of mass destruction (WMD), regional conflicts, state failure and organized crime. The EU's action plan to tackle these problems was to surround itself with "a ring of friends" through the European Neighborhood Policy (ENP), ensuring peace in its neighboring regions. More than decade has passed and Europe is now surrounded more by a ring of fire than by a ring of friends; Russia has been re-shaping the map of Europe, sectarian violence and proxy wars are taking place in the southern region neighboring the EU (where even chemical weapons have been used) and violent extremism and terror is spreading to European cities. All these reasons increase the possibility of a rising number of failed states.
When it comes to self-defense, EU states rely heavily on the support of the US due to its vital role in NATO. However, some EU parliamentarians are arguing that US officials have demonstrated on multiple occasions (one of them being the Russian attack on Ukraine) that Europe should take more responsibility for their security within NATO, as the focus of the organization has switched to the Pacific. To make the situation even more drastic the Republican presidential nominee, Donald Trump, while accepting his nomination for presidency, declared that the US would not automatically defend European countries in case of a Russian attack – thus jeopardizing the whole essence of the NATO military alliance. Taking everything into account, it comes as no surprise that the EU wants to put defense and security on top of its agenda and form an EU defense union. Britain has long been vetoing this idea, arguing that NATO is more equipped to handle the issues at hand – however, with UK out of the union, the discussion has been renewed.
Ursula Von der Leyen and Jean-Yves Le Drian – the defense ministers of Germany and France respectively – have put forward the plan for stronger EU defense cooperation through an EU "defense union".  Jean-Yves Le Drian, in her interview with the French press, stated "When we have threats that are surrounding us, we all know no country by its own will be able to manage that. But we together, we Europeans, we are very strong if we improve our capabilities as Europeans". Their proposal suggests a creation of permanent European military headquarters that will take charge of the Sophia anti-migrant smuggler operation and the Atalanta anti-pirate mission. Currently these operations have been commanded rotationally by the EU states. Additionally, they are opting for the establishment of a new command center to coordinate medical assistance and a logistics center to share strategic assets (ex. Air-lift capacities, sharing satellite reconnaissance data). They call for a single EU budget for military research and for joint cooperation in air-lift, satellite, cyber-defense assets and surveillance drones. It was also proposed for the EU to foster a European esprit de corps, through either forming a military academy or through implementation of European courses at national military schools.
While discussing the possibility of a European Defense Union, it is crucial to note the European Union's relationship with NATO; the EU's 28 member states include 22 members of NATO. In other words, a majority of EU member states have the ability to cooperatively plan their defense policies while receiving solid financial contributions from the United States. However, some member states of the EU remain hesitant to join NATO; Austria, Sweden, Finland, Ireland, Malta and Cyprus decided to stay out of  NATO due to the following reasons. Austria did not join NATO as it faced obstacles due to Soviet pressure when regaining its independence in 1955. From 1970 to 1983, the Social Democratic Chancellor, Bruno Kreisky, elevated Austria's neutral status to the point where one could argue neutrality became a part of the Austrian identity. It is highly unlikely that Austria will look to become a member of NATO in the near future. Sweden and Finland also decided to stay neutral, by refusing to join NATO, due to the Cold War antagonism between the West and the Soviet Union. Nevertheless, Sweden is one of the most enthusiastic contributors to NATO missions, and through playing this role, may be edging the closest to potential future membership status. If Sweden did apply for a EU membership, it is not a far reach to assume that a Finnish application would be close behind.
The ongoing conflict between the UK and Northern Ireland was and continues to be Ireland's main obstacle to EU membership, even after taking the 1988 Northern Ireland settlement into account. Both closer ties to NATO and enhanced military cooperation with the EU seem unlikely for Ireland due to the wave of nationalism still running through Irish politics today. Cyprus is currently engaging in a dispute with the Turkish Republic of Northern Cyprus through its occupation of nearly a third of the island. The repercussions of this dispute have taken shape in a strong Turkish resistance to a potential Cypriot NATO membership.
Despite their reluctance to join NATO till date, all of the aforementioned states are members of the Partnership for Peace (PfP), which allows them to play relevant role in supporting NATO missions. The prospect of a European Defense union may cause more disagreements among member states given that at least one of the mentioned non-NATO member states is likely to withhold their support for this new initiative.
The creation of a European Defense Union will have an impact on European neighborhood policy as well as neighboring states' perceptions of the EU. One of the purposes of this new union is to create a stronger opposition to the Eastern threat of Russia. In such a capacity, the EDU may be used as a tool to stop Russian aggression in Eastern Ukraine. It is still unlikely that the EU would engage Russia militarily even if it had an independent army (separate from NATO) but such an army would surely have an impact of Russo-NATO policy relations.
The EDU would also have a substantial impact on Georgia, as Georgian public support towards European and Euro-Atlantic aspirations remain high (71% in favor of EU, 68% in favor of NATO). Additionally, it should not be forgotten that the core disagreement between Russia and the West is NATO's Eastern expansion (mainly because the military organization was originally created to oppose Soviet aggression). If the European Union were to transform itself into a military union, Georgia may face another obstacle in Russian opposition to both Georgian Euro-Atlantic and its European integration. Although Georgia's bid for EU membership is not on the table, its European and Euro-Atlantic ties are getting stronger as the nation awaits a visa waiver from the EU and remains a reliable partner to NATO operations; Georgia is the third largest contributor to the Resolute Support Mission in Afghanistan, after the US and Germany. Keeping this in mind, the development of the EDU would require a clearly defined set of goals, and such a union should refrain from policing Europe (they have Europol and national police forces for this) but rather function as a guarantor of peace on EU soil and in its neighborhood.
It is worth noting that EDU is still in the rudimentary stages of formation. The EDU first needs to be approved by 27 EU states, following the terms negotiations with NATO (so as to avoid an overlap of functions). German and French defense ministers estimate the union to be in power by 2019, however, we would argue that seems like an optimistic estimate.