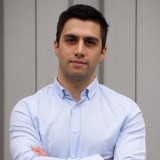 Shota Gelovani*
On May 7, the supporters of European integration, free markets, and open borders celebrated Emmanuel Macron's victory in the second round of the French presidential elections. Roughly 20 million French voters put their trust in the 39-year old political independent, refusing the far-right alternative for France, the National Front's Marine Le Pen.
Dodging the wave
Macron's victory, when considered alongside the Dutch far-right Party for Freedom (PVV) winning only 20 of 150 parliamentary seats in the Dutch general election in March—and opinion polls predicting Angela Merkel to retain her position as German chancellor later this year—means the so-called wave of populism and Euroscepticism washing over Europe has been (at least temporarily) delayed.
President Macron's margin of victory was notably high for a second-round election. Only Marine Le Pen's father, Jean-Marie, has lost by a bigger margin. However, it's still worrisome that ten million French, roughly 16% of the entire population of a country whose most recent football hero comes from a family of Algerian immigrants, voted for a far-right candidate who questions France's membership in the EU and vowed to suspend all legal immigration to France if she became president.
The French election's significance for Europe has been well documented. For Georgia, a Le Pen victory would have had drastic implications, too: The National Front leader is noted for her vocal recognition of Russia's annexation of Crimea, her unofficial ties to the Kremlin, and her opposition to European integration. Le Pen as president would have been a nightmare not only from the perspective of Georgia's Euro-Atlantic aspirations, but for the Euro-Atlantic space itself.
Fortunately, Macron did win. Georgia is now preparing to establish a rapport with the new president, who still needs to win legislative support in the elections to the National Assembly, the lower house of the bicameral Parliament of France, which are scheduled to take place in June. There is obviously not much that Georgia can do to affect the situation; however, it can and should stay loyal to principles regarding European integration and Western orientation, as well as its openness to free trade. This will benefit the long-term goals of both France and Georgia. So far, the new president has stressed these particular themes, and the international community, including Georgia, will expect concrete signals regarding the Macron presidency's foreign policy.
In the meantime, Georgian officials must concentrate on finding common ground with the new government, especially on vital issues such as continued European support for Georgia's territorial integrity, rule of law, transparent and accountable governance, and prospective EU membership talks. In this light, Macron's pro-integration stance is encouraging. As recent developments have shown, that can't be taken for granted, even in Western European countries.
The new cabinet
As of today, Macron's biggest concern is how his cabinet, led by new Prime Minister Édouard Philippe, works its way through inter-party bad blood. The newly-staffed cabinet is eclectic, incorporating politicians from five different parties, including three from the party claiming the biggest stake in President Macron's victory—The Republicans—as well as Nicolas Hulot, an ecologist and die-hard nuclear critic, who, while taking up the prestigious post of Minister of Ecological and Solidary Transition, reaffirmed his already staunch stance on environmental issues: "We are leading a battle of minds…The environment is the cornerstone of human dignity."
A fragmented French government is an unwelcome but realistic outcome for the time being. The newly-elected president jeopardized his nascent political base by cherry-picking ministers from across the political spectrum. That means he won't be able to fully rely on his government during his upcoming standoff with France's trade unions—the same battle that poisoned the administration of France's last president, François Hollande. Although Macron's lack of experience holding high-profile political positions is understandable to his voters, they are still expecting him to come up with an efficient team that can implement much-needed economic reforms, and pressure from those constituents isn't going to ease as time goes by.
On the other hand, Macron's decision to build a diverse government may have a rational basis: he is still subject to a high degree of uncertainty—most of the people he trusts and who helped his cause during the campaign lack prior political experience. That means he may not be able to rely on them now, when a cool-headed, technocratic approach is needed to push reforms through various obstacles emanating from both the right and left. Therefore, by building a half-centrist government, Macron might be leaving himself room for a future cabinet reshuffle, one that would result in the "real" cabinet staffed with time-tested and capable ministers. Although France's political system allows occasional cabinet re-shuffles, it would be unfortunate for Mr. Macron to be victimized by internal enmity within his government. In order to alleviate that threat, he needs the strong backing of the parliament. Unfortunately, things do not look good on that level, either.
A Tripolar Parliament?
The left-right divide may still undermine France's future–the French parliamentary elections, with Macron's party La République en Marche! (REM) failing to win enough votes to form a strong and cohesive majority. That exact outcome is what the most recent polls predict–REM is expected to win the biggest share of seats. However, 289 seats are required to form a majority, and it is very unlikely that the newborn party will cross that threshold by itself. The Socialist Party fell nine seats short of an absolute majority in the 2012 parliamentary elections; however, that wasn't fatal, as the presence of several other left-wing parties made the formation of a coalition relatively simple.
Macron's REM will definitely lead the majority, although the identity and political platform of those that join it remains uncertain. The practice of coalition formation in the French Parliament suggests a pragmatic decision–a majority that would include members from different parties, regardless of their platform, with a pro-EU stance and openness to reform being the sole requirements. Debates in the upcoming French National Assembly will be thus concentrated on the latter two elements, with the presidential majority pushing for legitimization of the reforms that Mr. Macron would like to undertake in order to "unblock France" and the opposition, mostly composed of right-wing Republicans, opposing such "shocking measures." Opposition from die-hard leftists on reforms concerning the labor market and unemployment will also define the French legislative body, exchanging the assembly's traditional left-right division for a center-left-right pattern.
Will the new car drive better? It is, of course, too soon to tell. However, one thing is for sure – in the short term, both the French electorate and foreign partners such as Georgia will receive mixed signals from the French government.
---
*Shota Gelovani – Master's Student of Political Science, Mannheim University.
**This publication was produced with the support of the Open Society Georgia Foundation (OSGF). The views and opinions expressed in this article are the author's alone and do not necessarily reflect the views of the Georgian Institute of Politics or the Open Society Georgia Foundation.