Polis180 (Berlin), the Georgian Institute of Politics (GIP, Tbilisi) and Argo (Paris) are pleased to announce a call for applications for participation in the German-Georgian-French workshop & conference
Between a Rock and a Hard Place? Georgian, German and French Perspectives on European Values and Euro-Atlantic Integration #GEOEUvalues
taking place in Tbilisi from 17-20 September.
#GEOEUvalues aims at discussing European values and ways of better anchoring them in the Georgian and the EU's societies. What are the main challenges to European values in states with EU ambitions, such as Georgia, as well as within the EU? What are European values in the first place? How can we foster those values in the EU and in the EU neighbourhood?
Read more about the project here.
What we are planning to do:
Bringing together 24 German, Georgian and French young experts for a three-day workshop in Tbilisi (17-19 September 2018) in order to reflect on European values and the foreign and domestic challenges of Georgia's Euro-Atlantic integration with local experts. The workshop will include an open policy lab where we will develop scenarios for the EU-Georgia relationship in 2030.
Convening for a one-day public conference in Tbilisi on 20 September 2018, involving the young as well as senior experts from Georgia, Germany and France. The conference will discuss our scenarios and policy recommendations with the public.
Publishing a joint policy paper and blog articles which reflect our discussions and the results of the workshop and conference. Contributions from the workshop participants are strongly encouraged!
Who can apply?
We are looking for highly motivated advanced students and young professionals from Georgia, Germany and France. Interested applicants must:
be citizens or residents of either Germany, Georgia or France

be between 20 and 35 years old

demonstrate a proven interest in European values, the Eastern Partnership, or (human) security dynamics in the post-Soviet space and/or the South Caucasus

have a (proven) very good command of English

be able to take part in ALL sessions of the workshop and conference (17-20 September, arrival & departure days 16 & 21 September)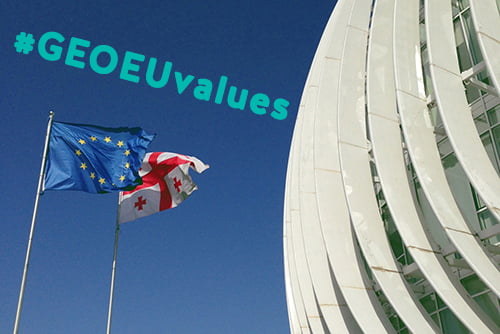 How to apply?
Please write a cover letter in which you provide answers to the following questions (max. 200 words each):
What is your motivation for participating in the project? What are European values? How can European values be fostered? Where does Europe end and why?
Please send your cover letter, CV and (if possible) proof of your knowledge of English to [email protected] stating your name, surname and country in the email subject line. The application deadline is 22 July 2018. Successful candidates will be notified by 31 July. Should you have any questions concerning the application process, feel free to contact us at [email protected]. Please note: Your data will be shared with Polis180, Argo and the Georgian Institute of Politics. GIP voluntary adheres to the EU's General Data Protection Regulation standards for this project. We look forward to your application!
Costs and Financing
The project is funded by the German Federal Foreign Office in the framework of the programme "Expanding Cooperation with Civil Society in the Eastern Partnership Countries and Russia". Most of the costs (flights/trains/buses to Tbilisi and back home, accommodation in gender-separated twin rooms and most meals) will be covered for all selected participants. The participants might need to cover limited small expenses (e.g. local transportation cost in Tbilisi and additional meals) themselves. Participants will need to book their own flight tickets and will be reimbursed after participation in the conference.