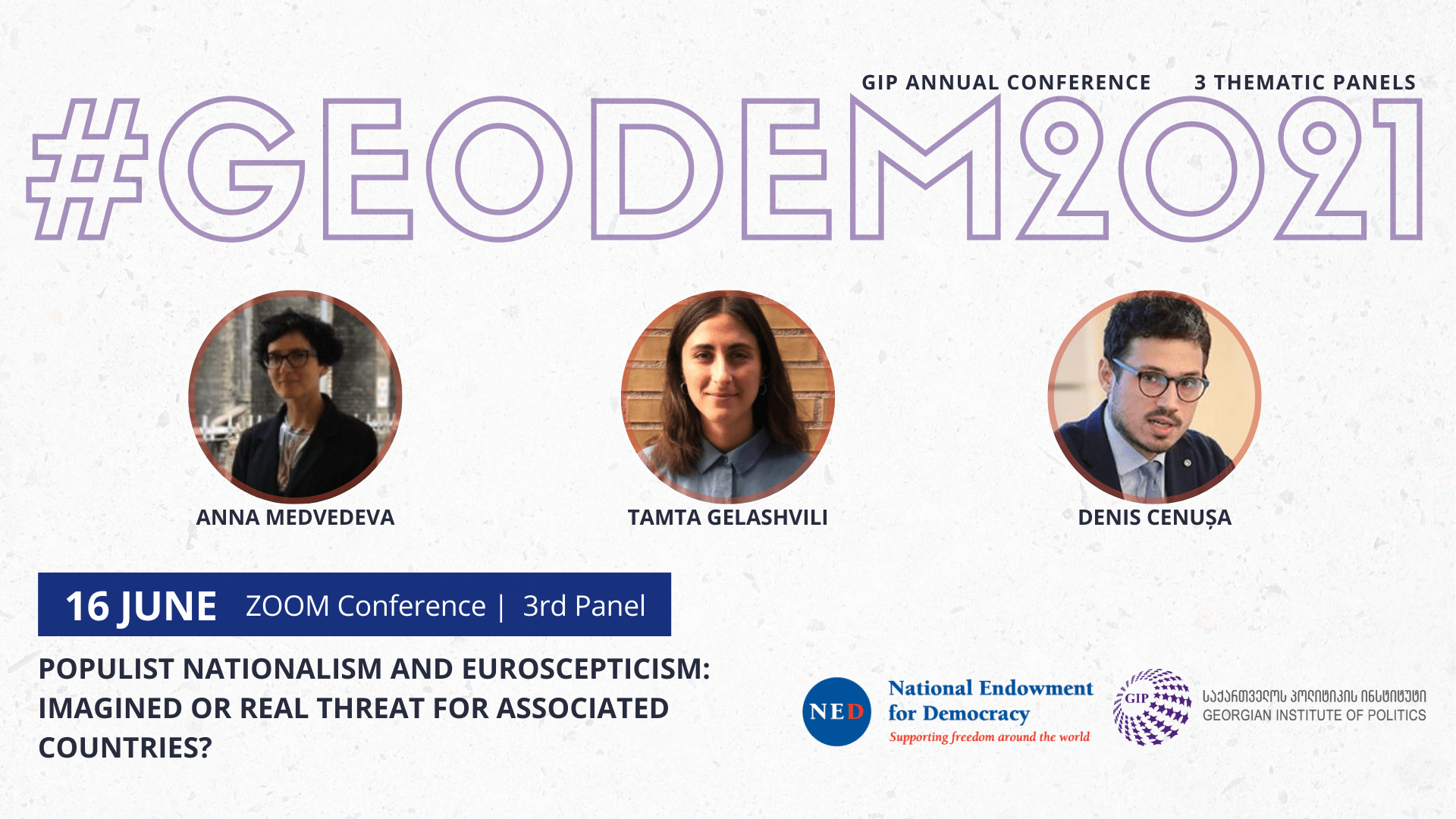 #GEODEM2021 – Panel 3: Populist Nationalism and Euroscepticism: Imagined or Real Threat for Associated Countries?
In May-June, 2021 GIP is hosting the 6th edition of its traditional annual Democracy Conference #GEODEM2021. Due to the pandemic, the conference is being conducted online presenting 3 different thematic panels.
The 3rd panel of the conference will take place on 16 June at 16:00 with the main theme Populist Nationalism and Euroscepticism: Imagined or Real Threat for Associated Countries?
The third panel will examine impacts of populist nationalism and Euroscepticism on processes of democratization and Europeanization in three Eastern Partnership (EaP) states – Georgia, Moldova and Ukraine. Georgia, Moldova and Ukraine share similar objectives and challenges on their path towards democratic consolidation and European integration. Comparative exploration of nationalist populism in three countries will therefore provide interesting regional pattern to understand phenomenon of populism and Euroscepticism in Europe's peripheral countries who aspire EU membership. Unlike the well-established liberal democracies, in the EaP countries challenges of nationalist populism are often blended with other not less severe problems of good governance and deficiencies in democratic institutions. Therefore, the panel will discuss to what extent the nationalist populism represents a major challenge to democratization and Europeanization of three associated counties and how it interacts with other problems of governance and democratic development. In doing so, the panel will focus on key populist actors, discourses and narratives in three EaP countries as well as on the role of external regional and global actors and the relation between populism and Euroscepticism.
The panel will address the following questions:
What are key populist discourses and narratives in Georgia, Moldova and Ukraine?

How influential are populist actors and what strategies do they utilize?

What is impact of populism on democratization processes in three countries?

To what extent do populist actors/discourses shape policy agenda of mainstream parties/government?

What is the impact of populism on processes of European integration and Europeanization of Georgia, Moldova and Ukraine?

To what extent do external actors empower populist actors/discourses in three countries?
Moderator: Dr. Stefan Meister, Heinrich Boell Foundation Tbilisi Office – South Caucasus Region.
Opening remarks:
16:00 –

Renata Skardžiūtė-Kereselidze, Deputy Director, Georgian Institute of Politics.
Speakers:
16:10 –

Anna Medvedeva, Associate

Research Fellow, New Europe Center,

Kyiv

16:20 –

Tamta Gelashvili,

Doctoral Research Fellow Department of Political Science, University of Oslo

16:30 –

Denis Cenușa,

Researcher, Institute for Political Sciences, Justus-Liebig University

16:40 –

Discussion
GIP's annual Democracy Conference is organized with the financial support of the National Endowment for Democracy (NED).
---