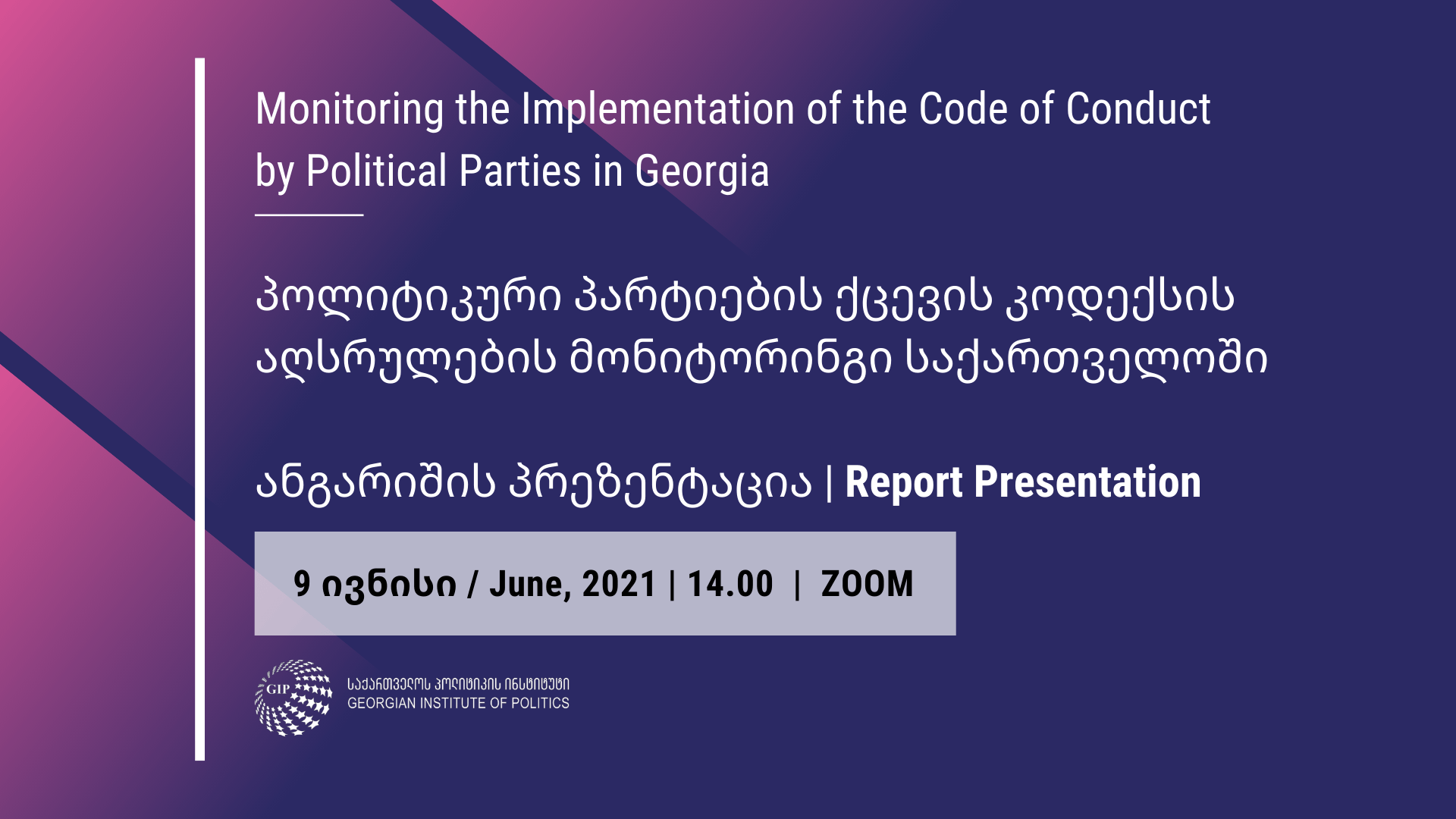 Report Presentation: "Monitoring the Implementation of the Code of Conduct by Political Parties in Georgia"
GIP will present a report on "Monitoring the Implementation of the Code of Conduct by Political Parties in Georgia", published with the support of the Swiss Federal Department of Foreign Affairs.
Prior to the 2020 elections, 40 Georgian political parties signed the political party Code of Conduct (CoC). By signing the document, the parties voluntarily undertook a commitment to fulfilling pre-election competition principles, to abide by ethical norms, respect each other and the voters, and to refrain from taking action that violated ethical norms.
The report aims to monitor the extent to which the major political Georgian parties fulfilled these norms and principles. The report made use of a number of quantitative and qualitative research methods, including desk research, interviews with party representatives and experts and media monitoring of major TV channels, and analyses the extent to which different signatory parties implemented selected CoC norms. Monitoring included the effectiveness of the self-regulating mechanisms outlined in the document and elaborated by the parties, and the extent to which campaigning was issue-based.
Attendees will have a possibility to address the recommendations and discuss the challenges to ethical campaigning in polarized political environment.
The event will be held in Georgian/English.
Moderator: Levan Ttutskiridze, Director, Eastern European Centre for Multiparty Democracy (EECMD).
Agenda:
14.00-14.10
Welcome remarks: Dr. Kornely Kakachia, Director, Georgian Institute of Politics.
14.10-14.40  Presentation of the report:
Salome Apkhazishvili, Media Reseacher
Nino Robakidze, Media Reseacher
Ana Dabrundashvili, Institute on War and Peace Reporting
Givi Silagadze, Caucasus Research Resource Center (CRRC-Georgia)
Nino Samkharadze, Georgian Institute of Politics.
Discussion with civil society, experts and politicians, Q&A .
Comments by: John di Pirro, Country Director, International Republican Institute (IRI).