Mariam Grigalashvili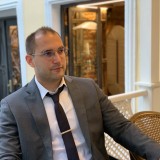 Mariam Grigalashvili and Joseph Larsen*
In international relations, image matters. This is especially true for small states such as Georgia. The country's image has suffered since Afgan Mukhtarli, an Azerbaijani investigative journalist who moved to Georgia in 2015, went missing from Tbilisi on May 29. According to a report by Radio Free Europe-Radio Liberty, he appeared in a detention facility in Baku a day later. Mukhtarli's lawyer, Elchin Sadigov, told reporters that the journalist was kidnapped near his home in Tbilisi by persons he believes are representatives of the Georgian state security service. According to Sagidov, the captors covered Mukhtarli's head and drove for hours before taking him across the border into Azerbaijan, where his presence was confirmed on May 31. A statement by Amnesty International said that Mukhtarli is at risk of torture.
Moreover, another recent case has damaged Georgia's reputation. Mustafa Emre Chabuk, a Turkish school teacher, was arrested by Georgian police–at the request of the Turkish government–on suspicion of supporting terrorism. He was placed in pre-trial detention on May 25. He faces imminent risk of extradition, according to a report by Amnesty International. The report warns that if extradited, Chabuk will be at risk of torture and other human rights violations by the Turkish authorities. Chabuk is accused of having ties to US-based cleric Fethullah Gülen, whom the Turkish government blames for last year's failed coup attempt.
Implications for Georgian-Azerbaijani relations:
The Mukhtarli incident has damaged Georgia's image domestically and internationally. Georgian President Giorgi Margvelashvili admitted that the case dealt a blow to Georgia's image as a regional leader in media freedom and human rights. Margvelashvili referred to the incident as a "serious challenge to our statehood and sovereignty." Levan Asatiani, Amnesty International's chief official in the South Caucasus,

accused

the Georgian authorities of being complicit in the abduction. The US State Department refrained from direct criticism of Georgia but nonetheless reported being "disturbed" by the incident.

Several

ambassadors

,

notably from the United States and Germany, have voiced concerns with the Ministry of Internal Affairs, calling for a full investigation with the results disclosed immediately. Otherwise, Georgia's image will be put in question.
The incident has also cast doubts about Georgia's ability to withstand pressure applied by a key strategic partner. Earlier this year, Georgia and Azerbaijan signed a natural gas agreement viewed as favorable to Georgia's interests. Under the terms of the agreement, Azerbaijan will meet all of Georgia's domestic demand in 2017, obviating the need to purchase additional supplies from Russia. The Mukhtarli case has fueled speculation that Georgia is cooperating with Azerbaijan's security service in exchange for favorable terms on the provision of gas. Such criticisms have been building up for some time, as the government refused to grant safe haven to several Azerbaijani dissidents earlier this year.  
Azerbaijan's heavy-handed approach is counter-productive because it undermines strategic relations between Baku and Tbilisi. Additionally, it further alienates Georgia's population–including an influential section of civil society–from both governments. The Azerbaijani authorities must understand that Georgia's obligations undertaken under its Association Agreement with the European Union are real and cannot be flouted.
The incident in any case will have a negative impact on international perceptions of the level of democracy and human rights protection in Georgia. At best, the authorities failed to stop Mukhtarli and his captors at the border, let alone keep him safe. At worst, members of the Ministry of Internal Affairs actively participated in his abduction.
Implications for Georgian-Turkish relations:
The case of Mustafa Emre Chabuk highlights Georgia's vulnerability to pressure imposed by a larger strategic partner. His arrest came shortly after an official visit to Tbilisi by Turkish Prime Minister Binali Yildirim, and is understandably seen as the government bowing to external pressure. The case poses a dilemma for Georgia: On the one hand, there is an official request for extradition from the Turkish government; on the other hand, there is the probability that Chabuk's rights will be violated if extradited. If the Georgian government does not extradite Chabuk, tensions may grow between the two countries. The Turkish government will perceive it as a diplomatic affront and as tacit support for the plotters of last year's attempted coup. However, if Georgia does extradite, it will be in violation of international human rights obligations, causing serious damage to the country's image and credibility.
A number of concrete areas could potentially be adversely affected by worsened relations between Georgia and Turkey. These include: 1) cooperation on implementation of the Baku-Tbilisi-Kars railway project; 2) Turkish support for Georgia's accession to NATO; 3) Turkish diplomatic support for Georgia in international bodies such as the UN and OSCE; 4) the visa free regime between Turkey and Georgia; and 5) bilateral trade relations.
As Georgia is not able to tackle this problem alone, it should attempt to involve relevant international organizations (Council of Europe, European Court of Justice, and diplomatic missions) in the Chabuk case, and take a decision based on these consultations. However, Georgia must approach this delicately, both adhering to its human rights obligations and managing its strategic partnership with Turkey.
---
*Mariam Grigalashvili and Joseph Larsen are analysts at GIP.