#GEODEM "საქართველოს პოლიტიკის ინსტიტუტის" დემოკრატიის ყოველწლიური  კონფერენციაა, რომელიც საქართველოს დემოკრატიზაციასთან დაკავშირებული საკითხებისა და გამოწვევების განსახილველად ერთგვარ პლატფორმას ქმნის. ყოველ მომდევნო წელს დემოკრატიის კონფერენციია თემის ახალი, განსხვავებულ ფოკუსის გარშემო ვითარდება და თემატური პანელებიც სახელმწიფოსა და საზოგადოებისთვის აქტუალური საკითხების მიხედვით იგეგმება. მოწვეული საერთაშორისო მომხსენებლები, წამყვანი აკადემიკოსები, ექსპერტები და პოლიტიკოსები ხელს უწყობენ განხილული საკითხებისა და რეკომენდაციებისა გლობალურად გავრცელებას. დემოკრატიის კონფერენციისთვის GIP-ის ანალიტიკოსთა გუნდი ყოველწლიურად ამზადებს პოლიტიკის კრებულს წლის ყველაზე აქტუალური თემის გარშემო. აღნიშნულ დოკუმენტს ავტორები GEODEM-ის ფარგლებში წარადგენენ. 
GEODEM თბილისში პირველად 2016 წელს ჩატარდა. დემოკრატიის კონფერენცია აერთიანებს ქართველ და უცხოელ პოლიტიკოსებს, საჯარო მოხელეებს, ჟურნალისტებს, აკადემიკოსებს, სამოქალაქო საზოგადოების წარმომადგენლებსა და დამოუკიდებელ ექსპერტებს.  ღონისძიებებმა 200-მდე მონაწილე შეკრიბა. 2020 წლიდან GEODEM ონლაინ ფორმატში ადაპტირდა და დემოკრატიის კონფერენცია უკვე ჰიბრიდულ რეჟიმში ჩატარდა, გაფართოებული დამსწრე აუდიტორიით, თბილისის ფიზიკურ საზღვრებს მიღმა.
GIP hosted its annual Democracy Conference "Polarization trap: Georgia's democracy on the edge of trust crisis and the rise of populism" #GEODEM2019
The rise of populism and the polarization of political parties and the media are two of the most problematic issues that Georgia faces today along its path to democratization. In spite of the actuality of these topics, there is a lack of sufficient knowledge and academic discussion about these problems.
On 3 April 2019 Georgian Institute of Politics (GIP), with the financial support of the National Endowment for Democracy (NED), organized the 4th annual conference "Polarization trap: Georgia's democracy on the edge of trust crisis and the rise of populism" #GEODEM2019. The conference was organized into three thematic panels, which sought to answer the following questions: 1) How to set a positive political agenda in Georgian party politics? How to build or maintain public trust in political parties? 2) How to transform the process of media polarization into pluralism? 3) How to meet the challenges of radical populism and how do the trends underway in Georgian fit into the international context?
H.E. Carl Hartzell, Ambassador of the European Union to Georgia, and Prof. David Aprasidze, Ilia State University, opened the conference with remarks that underscored the polarization of the political atmosphere in Georgia. H.E. Carl Hartzell noted that democratic reforms take time. "Of course, we can talk about the speed, but the most important is that Georgia is on a positive trajectory. However, we are concerned with the last presidential elections and 2020 election will be a test," Ambassador Hartzell said. He stressed that democracy is not only about elections, but elections are when the democracy trajectory changes. Ambassador Hartzell also spoke about the problem of media polarization and mentioned that the EU delegation plans to meet mainstream media platforms next month to talk about journalistic ethics as well as the media's role as providers of investigation and analysis to the public.
The first panel discussion included Dr. Alessandro Nai (University of Amsterdam), Archil Talakvadze (Georgian Dream), Giorgi Baramidze (United National Movement) Khatuna Samnidze (Republican Party), Prof. Iago Kachkachishvili (Tbilisi State University). Laura Thornton, the Georgia Resident Director of the National Democratic Institute (NDI), moderated the panel. The panelists mostly concentrated on the importance of setting a positive agenda for political parties and the impact of political parties' negative discourse on electoral processes.
Ms. Laura Thornton noted that the vast majority of Georgian society say that no party is close to their interests and only 38% believe that MPs are qualified, according to NDI's latest poll results.
Dr. Alessandro Nai spoke about different forms of negative expressions as well as the impact of the negative discourses observed during the 2016 Georgian elections.
Mr. Archil Talakvadze highlighted the ruling Georgian Dream's positive agenda, i.e. the EU Association Agreement agenda and deepening the country's partnership with NATO and US. He distinguished the three priority cycles of the Georgian Dream: human rights protection and social policies development in 2012; followed by sustaining the standards of human rights and improving the economy; and finally, the ongoing reforms to improve education and economic development.
Mr. Giorgi Baramidze said that it is essential to listen to each other, no matter how polarized the Georgian political system may be. He also mentioned that while the opposition can engage in discussions about developing a positive agenda, it is the ruling party's responsibility to implement it.
Khatuna Samnidze drew the attention to the deep-rooted prejudice in the political life, which largely stems from lingering aspects of communist mentality. For example, people join political parties expecting it will lead to employment, rather than out of an ideological conviction. She also noted that today employers refuse to hire a person due to their political affiliations regardless of their professionalism. She also said a couple of words about the exclusion and discreditation of women in the political sphere.
Prof. Iago Kachkachishvili analyzed the causes of polarization and its results and claimed that in 2012, polarization was used as an instrument, a tactic step to change the government, which was successful. He drew particular attention to the existing gap between the political class and academia, which he finds problematic because doing politics without research and evidence-based analysis is practically impossible. To reduce polarization, the professor called for restoring pluralism in political life.
The second panel included Dr. Marina Vashakmadze (Ajara TV, Public Broadcaster), Lasha Kavtaradze (Media Checker), Ana Natsvlishvili (Georgian Institute of Public Affairs), Dr. Fernando Casal Bertoa (University of Nottingham) and Nino Robakidze (SAFE Initiative Eurasia Center Manager, IREX). The panel was chaired by Rayhan Demytrie, Foreign Correspondent, BBC News.
The panel started with a presentation by Dr. Fernando Casal Bertoa, who discussed the causes and consequences of polarization in different countries. Prof. Bertoa noted an increased level of polarization in Eastern Europe, including in Georgia. Although polarization does not lead to the collapse of democracy, it has significant negative consequences on the quality of democracy, he said. In terms of the trends in Georgia, Professor Bertoa cited the latest presidential elections as another example of polarization. He suggested increased institutionalization and the depersonalization of party politics as possible solutions to polarization.
Mr. Lasha Kavtaradze underlined various causes of media polarization in Georgia and offered a historical context. In his view, while the current government allowed space for media pluralism for a few years following 2012, by 2014, it was already trying to control the media. Mr. Kavtaradze argued that today Georgian media is divided into two major camps. He added that small and regional media platforms are often subject to differential treatment, which further hinders the prospects of achieving media pluralism. Mr. Kavtaradze stated that the genuine reform of the public broadcaster — completely freeing it from governmental control — would make it possible to mitigate the negative impacts of polarization.
Dr. Marina Vashakmadze underscored the importance of professional journalistic standards and spoke about the need for continued support for the establishment of independent media platforms in Georgia. She characterized the problem of polarization as a cyclic phenomenon: media often becomes the subject of public pressure and responds by offering products that the public likes and expects. Instead, she argued, the media should operate as a watchdog and a monitor.
Ms. Ana Natsvlishvili remarked that the problem of polarization in Georgia is becoming more visible and that at the core is the issue of reporting "a half- truth and the lack of consensus on basic facts". She noted that weak institutions, coupled with the lack of dialogue between government and opposition, and between state and society, further aggravates the problem.
Ms. Nino Robakidze also delved into the causes of polarization and noted the links between media platforms and political parties. She particularly drew attention to the function of the media as a public forum, which should serve as the discussion space for all the members of the public.
Third and final panel featured Dr. David Sichinava (CRRC Georgia), Lasha Bakradze (Giorgi Leonidze State Museum of Literature), Grigol Gegelia (European University Institute), Eka Chitanava (Tolerance and Diversity Institute), and Zaza Piralishvili (Philosopher). The panel was moderated by Felix Hett, Director FES South Caucasus, Friedrich-Ebert-Stiftung (FES).
Dr. David Sichinava named some characteristic of populism such as economic anxiety, moral clashes and corrupt elites. He focused on the pillars of populism, especially nativist attitudes, such as radical Georgian rights wing groups that concentrate on LGBT issues, drug legalization, the murder of Archil Tatunashvili, and anti-Muslim/Turkish sentiments.
Dr. Lasha Bakradze explained that radical right-wing groups focus on religious sentiments, which is not the case in left wing groups, which use a more inclusive approach. He also stressed that, in terms of populist discourse, Georgia is not unique. Dr. Bakradze called the current state of the world the "post-democratic era".
Mr. Grigol Gegelia identified 'the people vs elite' discourse as integral to any definition of populism. He warned about the consequences of labeling everyone as populist, and seeing populism as an inherently negative phenomenon. Mr. Gegelia also distinguished between exclusionary and inclusionary populisms. The former often includes far right populism and is based on the exclusion of people, while the latter centers on the idea of inclusion. He further argued that populism exists in Georgia because the "Georgian political elites have not spoken to the people". He identified various populist groups and personalities in Georgia, who fall into different categories of populism, such as establishment populists, nationalists and neo-Nazis. Mr. Gegelia also spoke about the danger of using the populist label to delegitimize issues that legitimately concern members of the public.
Ms. Eka Chitanava provided an overview of the ultra-nationalist actors and movements in Georgia and offered insights into the discourses that these groups deploy. She also emphasized the shared anti-liberal identity of populist groups in Georgia and noted that a common question is if these groups are pro-Russian or anti-Western. Ultra-nationalists, Chitanava argued, often use historical figures to justify their nationalist and xenophobic discourses.
Mr. Zaza Piralishvili also touched upon the challenge of populism in Georgia. He recalled the period in modern Georgian history when a nationalist discourse, albeit different from the current one, was also prevalent on the political scene. He argued that the lack of cooperation and dialogue — and attempts to monopolize truth and meaning — are at the core of the current populist challenge in Georgia and elsewhere.
GIP Hosted International Conference – "Democratization and Europeanization Agenda During Uncertain times: Georgia in Focus" #GEODEM2018
While Georgia has made an impressive progress on Europeanization agenda, its capacity to consolidate democracy is still uncertain. To discuss the prospects and challenges of Georgia's democratization and Europeanization, on 2 May, 2018, the Georgian Institute of Politics with support of the National Endowment for Democracy (NED) hosted the international conference, "
Democratization and Europeanization Agenda During Uncertain Times: Georgia in Focus". 
The conference included three panels: domestic drivers of democratization and Europeanization; Georgia's immediate neighborhood; and influence of Western conditionality.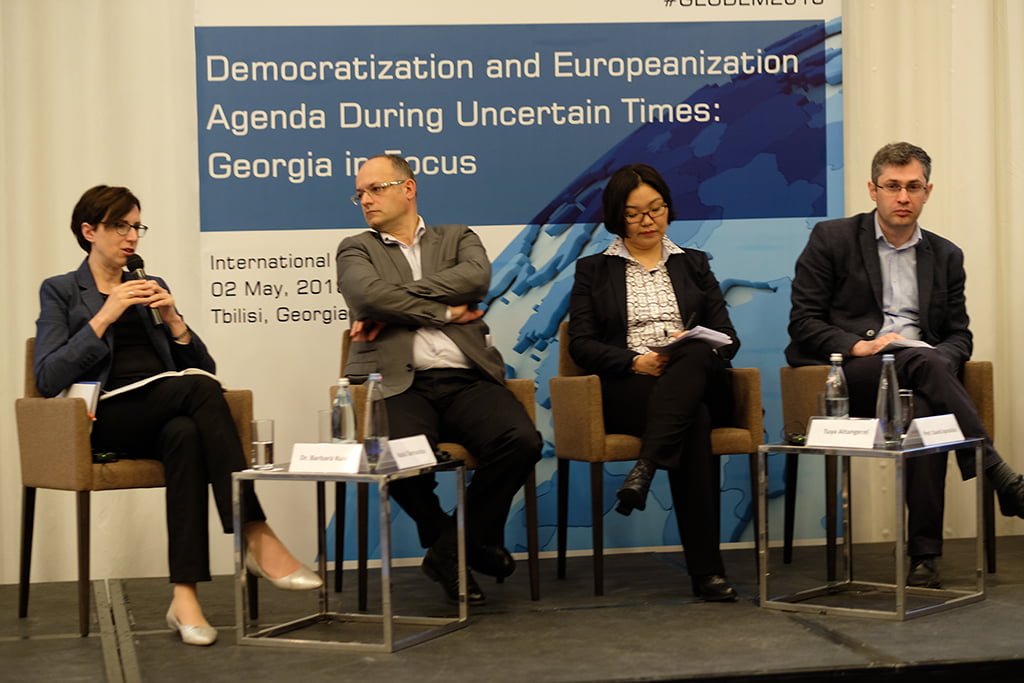 The first panel's
 discussion included 
Tuya Altangerel 
(Deputy Resident Representative of UNDP in Georgia), 
Dr. Bakur Kvashilava (
Dean of the School of Law and Politics at GIPA), 
Tinatin Khidasheli
 (former Minister of Defence of Georgia),
Dr. Barbara Kunz
 (researcher at the Institut Français des Relations Internationales) and 
Koba Turmanidze
 (Director of the Caucasus Research Resources Center in Georgia). Panelists shared assessments regarding the lack of democratic consolidation in Georgia. Ms. Altangerel referred to lack of public engagement in democratic processes, and challenges arising in light of Georgia's move towards Parliamentary system and the recent constitutional changes. She highlighted the progress in the areas that UNDP is supporting in Georgia: de-centralization, civil service reform and the concept of open parliament. Dr. Kvashilava addressed concerns regarding the readiness of domestic actors of democratization to actively engage in political processstressing that the degree of Georgia's democracy is largely defined by international conjuncture. According to Khidasheli, 
"Political elite, as understood in European democracies, hasn't been able to form in Georgia"
. Dr. Kunz presented her 
paper
on Georgia's European perspectives within the context of current debates on the EU's future, emphasizing that the attitudes of France and Germany towards the EU's foreign policy, although coordinated, are not necessarily the same. Finally, Koba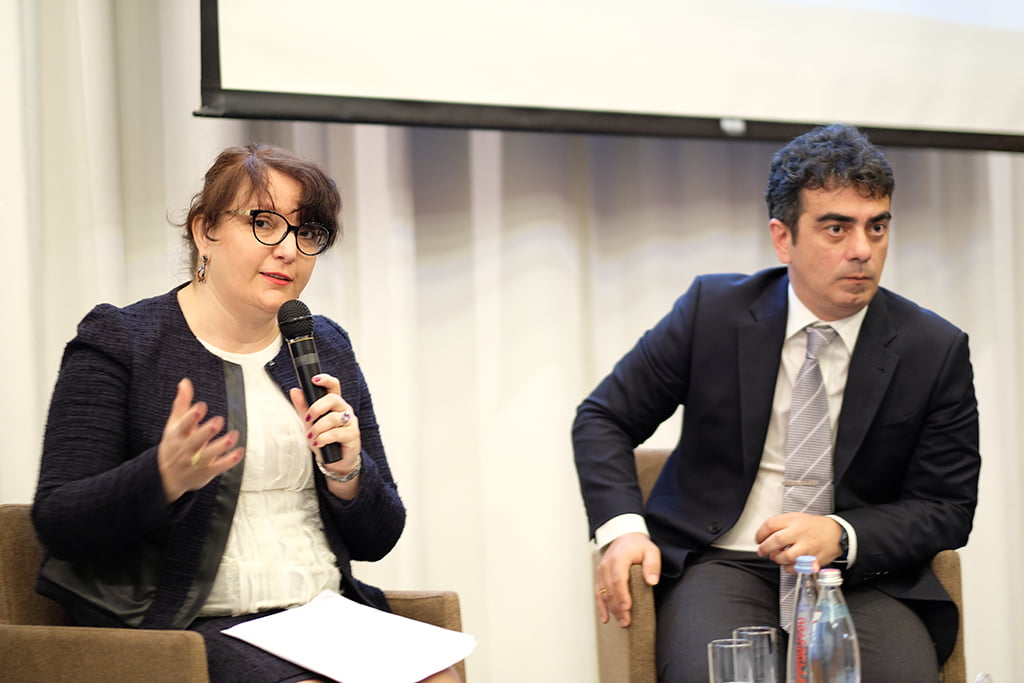 Turmanidze presented Europeanization and democratization process of Georgia in figures, speaking about the population's attitudes towards Georgian government's declared goal to join the European Union. According to the data of CRRC/NDI 2018, opinion poll, public Attitudes in Georgia, on the question, 
"How much of democracy is Georgia today?"
, 45% of respondents answer – 
"A democracy with major problems"
. While speaking about the support to Georgia's EU membership is high amounting to 75%, this support, however, is in many cases delicate and fragile.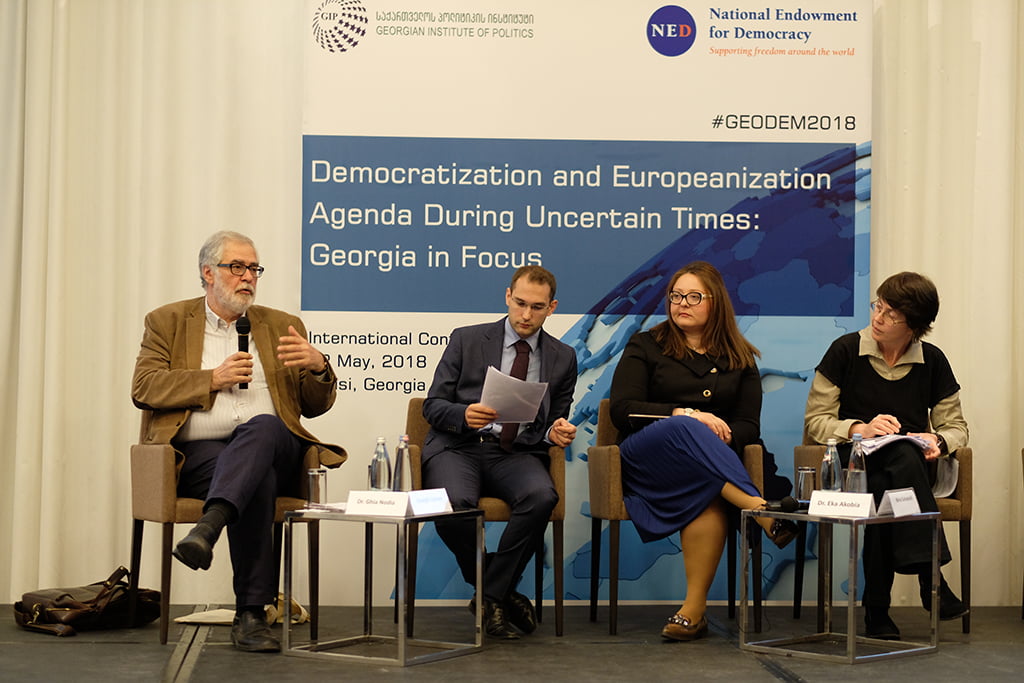 The second panel involved Dr. Ghia Nodia
 (Professor at Ilia State University), 
Joseph Larsen,
 (Affiliated Analyst at the Georgian Institute of Politics), 
Dr. Eka Akobia
 (Dean of Caucasus School of Governance at Caucasus University), 
Dr. Ivanna Machitidze
 (Assoc. Prof. at International Black Sea University) and  
Dr. Tracey German
 (King's College London). Panelists addressed the issue of the impact of Georgia's immediate neighborhood on the democratization process, stressing that neighbors have extensive influence over Georgia's democratization. Ghia Nodia emphasized the role of regional context pointing to the lower standards by which Georgia's democratization process is assessed. 
"Being a beacon of democracy is somewhat dangerous because the benchmark you are compared to is very low and it's easier to keep supporters satisfied"
. Joseph Larsen presented his 
new policy brief,
"Good Fences Make Good Neighbors: How Georgia Can Resist Authoritarian Pressure", noting that Georgia's linkages with democratic countries are relatively weaker while its relations with authoritarian neighbors are much stronger, which adds to the pressure for democratization standards in Georgia.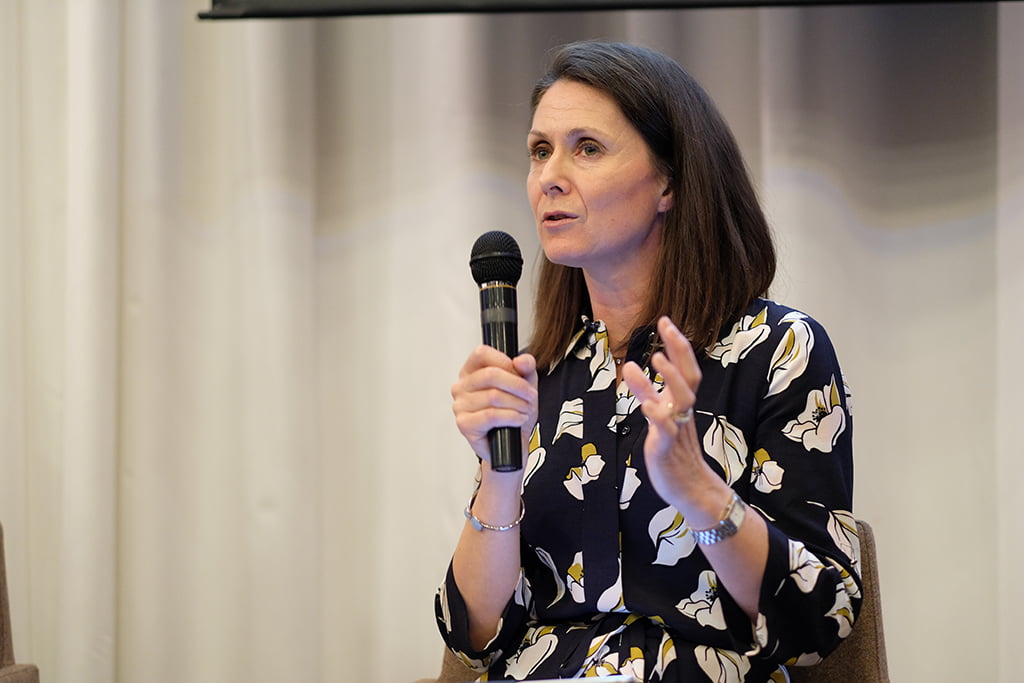 Dr. Akobia emphasized the importance of Georgian interpretation of the Europeanization process, stressing that Georgia's Europeanness is defined less by geography and more by identity. Ivanna Machitidze focused on the influence of the Russian federation on Georgia's Europeanization and democratization agenda. Presenting her research findings, Machitidze underlined the need for experience of Western countries while dealing with the Russian Federation. Dr. Tracey German presented her 
paper
– "
Between a Rock and a Hard Place? Georgia's Regional Balancing Act", noting Georgia faces the challenge of balancing idealism and pragmatism in foreign policy.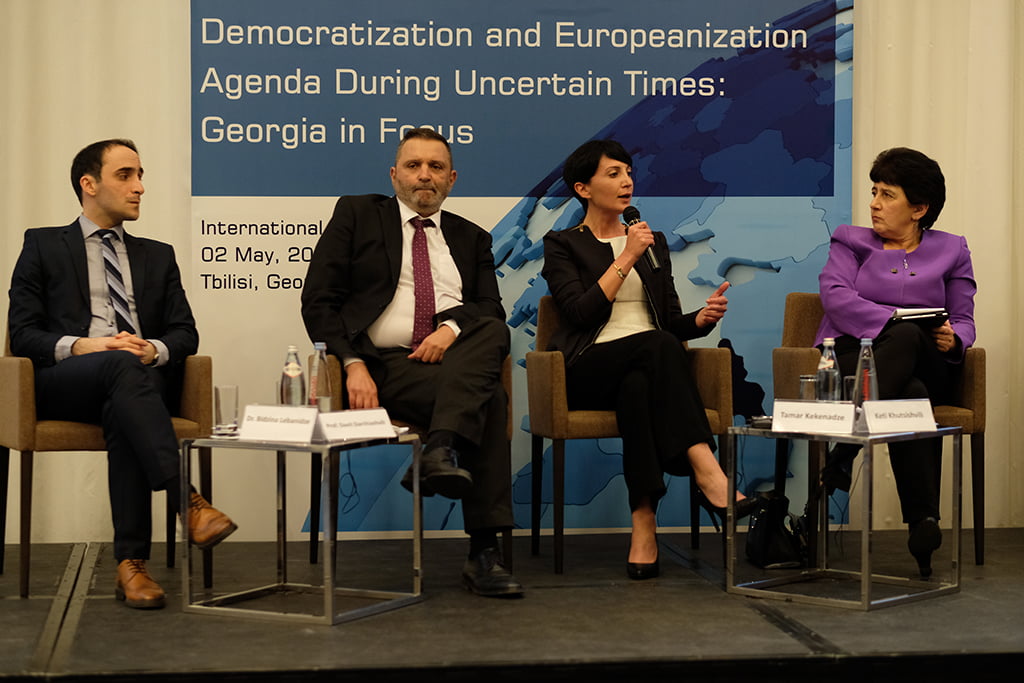 The third and final panel
 featured 
Dr. Bidzina Lebanidze
 (Universität Bremen), 
Dr. Davit Darchiashvili
 (Professor at Ilia State University), 
Tamar Kekenadze
 (Secretary General of Free Democrats),
Dr. George Mchedlishvili
 (Assoc. Professor at International Black Sea University) and 
Ivane Chkhikvadze
 (EU Integration Program Manager at Open Society Georgia Foundation). Panelists agreed that Europeanization process leads Georgia's democratization agenda. Presenting his 
research 
– "Making Georgia's democracy work: Western political conditionality and domestic agendas of political parties". Bidzina Lebanidze discussed both successful and unsuccessful cases of Western conditionality in Georgia. Dr.  Darchiashvili put under question Georgia's ability to lead Europeanization and democratization process without external pressure.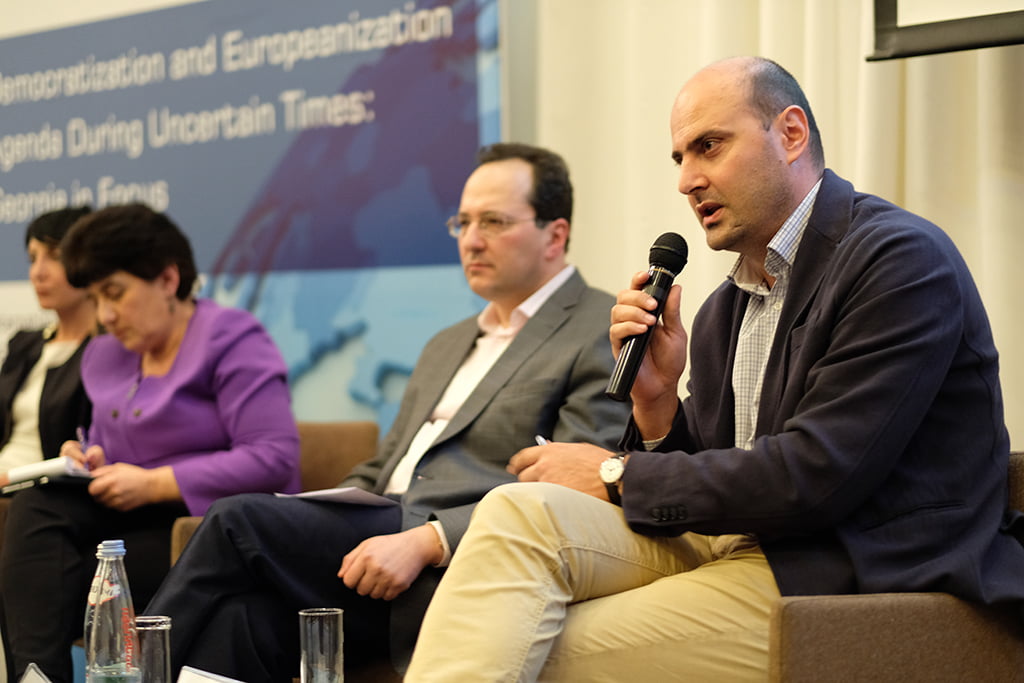 Meanwhile, Tamar Kekenadze argued that Georgian society has not realized that democratization process shall be driven internally. Dr. Mchedlishvili noted that when speaking about Georgia's case West shall imply stricter conditionality. Chkhikvadze called on the government to develop EU integration roadmap, initiated in December 2017, and recommended to act as a candidate country when speaking on Georgia's membership to the EU.
International Conference – "Georgia at the Nexus of Democratization and Europeanization: Prospects and Challenges" #GeoDem2017
Georgia has made impressive democratic progress over the past two decades. However, issues related to democratization and Europeanization—as well as the links between them—remain pressing. The country is striving toward a more consolidated democratic system while deepening integration with the European Union (EU) and NATO. To address the prospects and challenge involved with these processes, on 16 May 2017, the Georgian Institute of Politics with support of the National Endowment for Democracy (NED) hosted the international conference, "Georgia at the Nexus of Democratization and Europeanization: Trends and Challenges." The conference included three panels: Party Politics and Democratization; Parliamentarism; and Europeanization and Democracy.
International Conference "Religion, Foreign influences and Parliamentarism: The Prospect of Consolidated Democracy in Georgia"
Georgian Institute of Politics hosted the international conference – "Religion, Foreign influences and Parliamentarism: The Prospect of Consolidated Democracy in Georgia" on May 18th, 2016.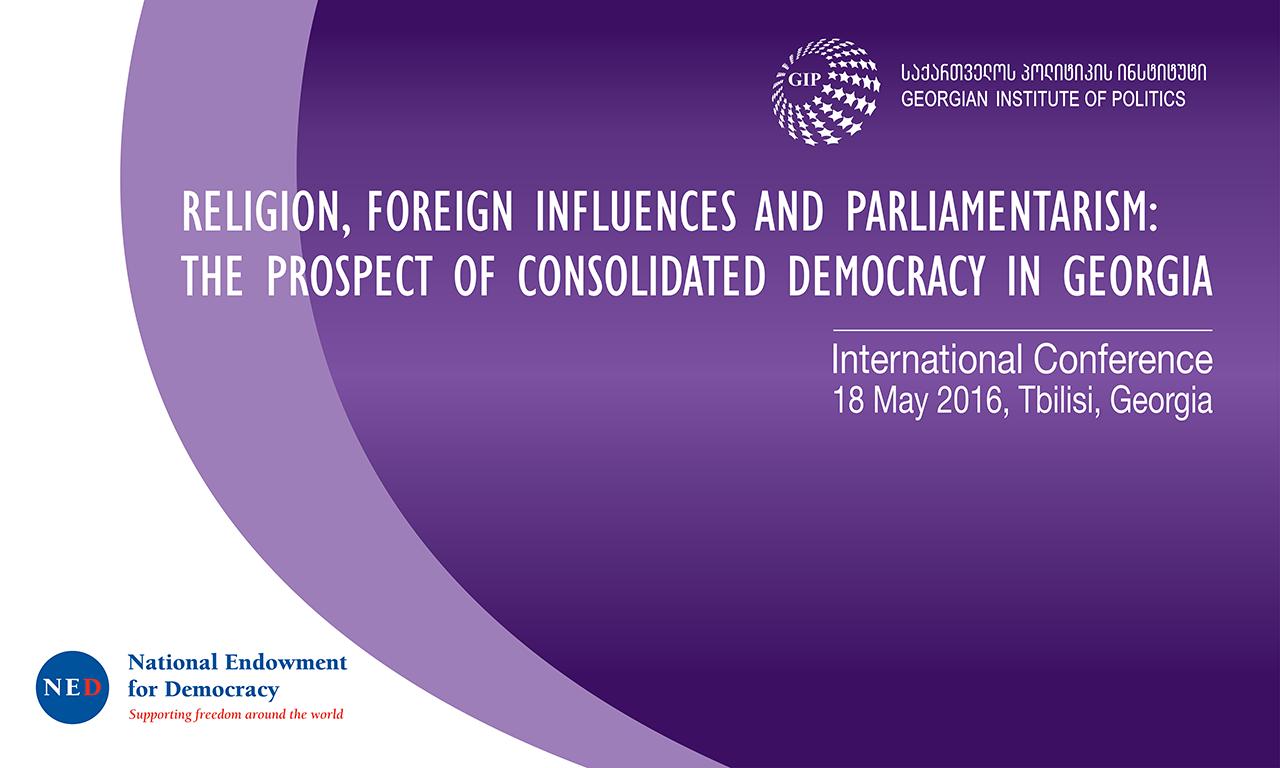 Academics, government officials, religious figures, and civil society representatives discussed the state of democratization in Georgia and identified obstacles and opportunities for further democratic development. Each of the 3 panels of the conference were focused on specific topics su
ch as: Religion & Democracy, Parliamentarism and Foreign Influences on Democracy.