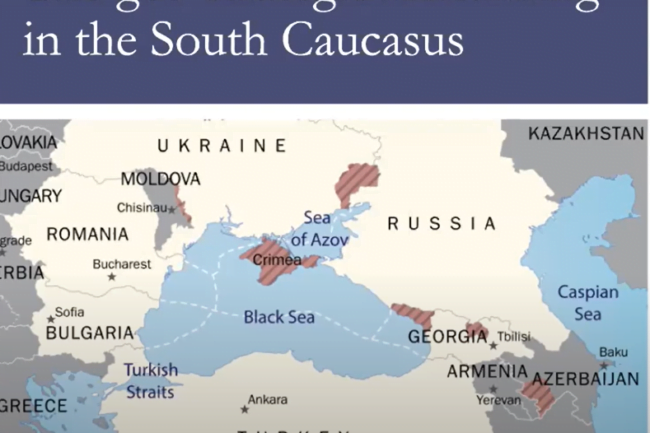 On December 8, 2021, the Georgian Institute of Politics (GIP), together with the Heinrich Boell Foundation Tbilisi Office – South Caucasus Region (HBF), organized presentations of a series of articles papers focused on the new geopolitical realities in the South Caucasus after the Second Nagorno-Karabakh War.
The authors were selected within the framework of the project "Analyzing Geopolitical Shifts in the South Caucasus." The event aimed to enhance discussions about geopolitical changes in the South Caucasus and future policy options with stakeholders from the region, from Germany, and the EU.
The project aimed to assess the changing geopolitical and security environment in the South Caucasus, including the role of regional actors, such as Turkey, Russia, and Iran. With this project, the GIP, together with the HBF, sought to contribute to developing an informed policy approach towards Georgia, Armenia, Azerbaijan, as well as aimed to increase the quality of research and the debate on the geopolitical changes. At this event, five researchers from the South Caucasus region presented the key findings of their papers as well as recommendations that they proposed addressing the governments of SC states as well as the EU and other relevant stakeholders. Experts working on the South Caucasus region also took part in this event as discussants.The experts shortly assessed the presentations and provided their input regarding the recent developments in the region, their impact on the relation between the EU and the three South Caucasus countries, and the challenges faced due to the new potential configurations in this region.During the event, the authors answered the following questions:
To what extent is it realistic to expect the EU's engagement in the South Caucasus as a geopolitical/security actor?
How can the passivity of Berlin and Brussels during the Nagorno-Karabakh war be explained, and what are their interests and corresponding policy options now?
Why and how does the Russian and Chinese vaccine diplomacy influence the public discourse in the South Caucasus?
How does the end of the war in Nagorno-Karabakh change the political discourse in Azerbaijan?
How would the re-opening of the Yerevan-Nakhijevan-Baku railway impact economic opportunities in the region?