The South Caucasus is a region at the nexus of various economic, political, and energy interests. It is currently witnessing some of the most complex and dangerous events in the world today. It features weak states, direct and proxy wars, and a confluence of great power interests. It is also a prism for fundamental challenges to the international system, including separatism, security, energy transit, and infrastructure. Strategically, the South Caucasus sits at the crossroads of vibrant global markets: Central Asia and China to the east; Turkey and Europe to the west; Russia to the north; and Iran and the Middle East to the south. However, the lack of regional unity and unresolved frozen and protracted conflicts remain the biggest hurdles to developing a functioning regional security architecture. These conflicts hamper and complicate regional efforts toward independence, economic prosperity, and equal and secure co-existence.
Bearing these substantial shifts in mind, this volume authored by a group of international and local scholars offers firsthand accounts of the current regional situation. The following questions are asked: What do the geopolitical 16 changes in the wider region and the growing activities of other regional powers like Iran, Russia, and Turkey mean for the ENP? How can the EU undertake a strategic shift to widen its view of the region to include the wider Caucasus, Caspian, and Black Sea region?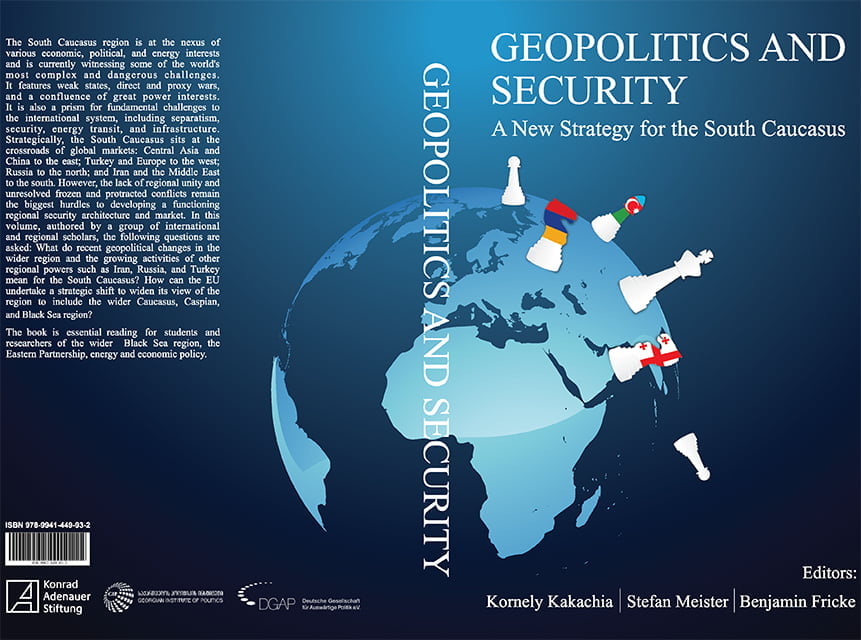 Contributing authors include Dr. SVANTE E. CORNELL (Central Asia-Caucasus Institute), Dr. LAURE DELCOUR (Fondation Maison des Sciences de l'Homme), BENJAMIN FRICKE (Konrad-Adenauer-Stiftung), RICHARD GIRAGOSIAN (Regional Studies Center), KAKHA GOGOLASHVILI (Georgian Foundation for Strategic and International Studies), Dr. KORNELY KAKACHIA (Georgian Institute of Politics), Dr. HRANT KOSTANYAN (Center for European Policy Studies), Dr. ANDREY MAKARYCHEV (University of Tartu), Dr. STEFAN MEISTER (German Council on Foreign Relations), Dr. NONA MIKHELIDZE (Istituto Affari Internazionali), GULMIRA RZAYEVA (Center for Strategic Studies), Prof. BRENDA SHAFFER (Atlantic Council), Dr. LICÍNIA SIMÃO (Centre for Social Studies), Dr. ANAR VALIYEV (ADA University), ALEXANDRA YATSYK (Centre for Russian and Eurasian Studies, Uppsala University).