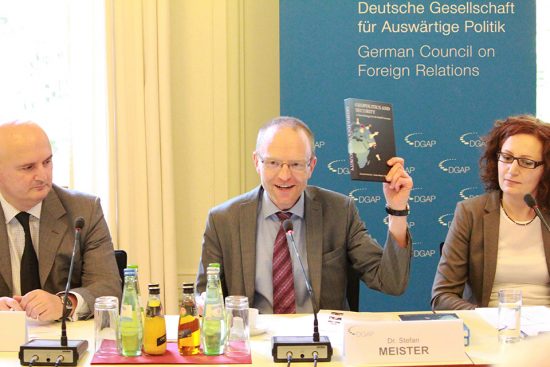 Book Presentation – "Geopolitics and Security: A New Strategy for the South Caucasus" – in Berlin
Kornely Kakachia, the GIP director, participated in the book presentation – "Geopolitics and Security: A New Strategy for the South Caucasus" – hosted by the German Council on Foreign Relations (DGAP) on May 17, 2018 in Berlin,Germany. 
The South Caucasus is a region at the nexus of economic, political, and energy interests between Russia, the EU, Turkey, Iran and China. It features weak states, as well as direct and proxy wars. The protracted separatist conflicts pose a key security challenge also involving external players such as Russia and Turkey. The EU tries to stabilize and transform the region with its Eastern Partnership policy. However, growing conflicts in the Middle East, between Russia and the West, Turkey and its allies, as well as the rise of China impact the dynamic in the South Caucasus. The situation is further aggravated by the fact that the EU's neighborhood policy has so far neglected to consider and assure the security of the countries in its good governance policies for the region.
All these key questions are discussed in the book "Geopolitics and security: A new strategy for the South Caucasus" edited by Kornely Kakachia, Stefan Meister and Benjamin Fricke and funded by the Konrad Adenauer Foundation. The event aimed to discuss the major arguments of the book and how the EU has to adapt to this changing situation in its neighborhood policy to stay relevant in the South Caucasus.
Introduction and Chair:
Dr. Stefan Meister
Head of the DGAP Robert Bosch Center for
Central and Eastern Europe, Russia, and Central Asia
Speakers:        
Kornely Kakachia
Executive Director, Georgian Institute of Politics (GIP)
Benjamin Fricke
Scientific Associate, Regional Programme Political Dialogue
South Caucasus, Konrad Adenauer Foundation
Licínia Simão 
Assistant professor, School of Economics,
University of Coimbra